During the last decade, PEN Canada's community outreach has centred on engaging young Canadians with freedom of expression issues through visits to high schools in Ontario. These visits typically centre on a student-driven dialogue with a PEN staffer and a Writer in Exile. Before each visit, students are encouraged to research the life and work of our centre's Honorary Members, and to reflect on ways that freedom of expression underpins other democratic freedoms. During the visits, our writers in exile recount their experience of censorship and warn against the dangers of indifference or complacency towards the right to freedom of expression. Author and PEN supporter Jennifer Lanthier has shared The Stamp Collector, a story inspired by her PEN advocacy work, with students in the GTA. Read here.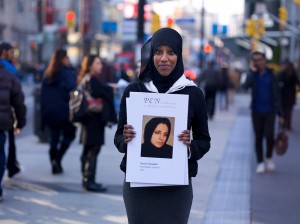 PEN Canada also holds a number of public literary events throughout the year to advance literary culture and to raise awareness of the importance of freedom of expression. These include the Ideas in Dialogue literary series, which was created in memory of past president of PEN Canada Constance Rooke.
If you would like more information about the PEN in the Community program, or to schedule a visit to your school, please contact Brendan de Caires, Executive Director, at 416 703 8448 x2223 or by email at bdecaires@pencanada.ca.