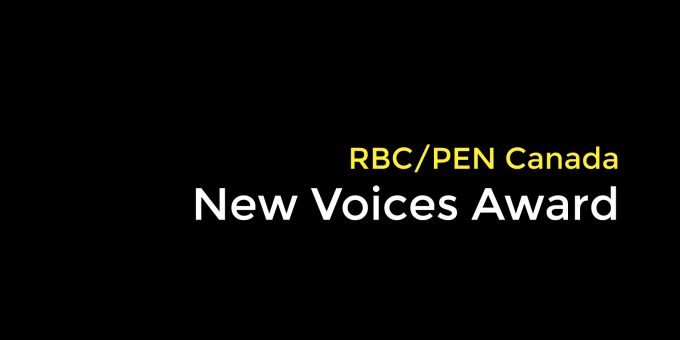 RBC/PEN Canada New Voices Award
The RBC/PEN Canada New Voices Award supports and celebrates new Canadian writers. Young unpublished writers are invited to submit short stories, creative non-fiction, journalism, and poetry to a jury of distinguished PEN Canada members for a chance to win $2,000 CAD and mentorship from a Canadian author.
Please submit your entries by midnight on April 21, 2017 [Deadline extended until May 17]. Submissions to PEN Canada must be in English. All judging will be blind. For detailed submission guidelines and terms of entry please read on. 
The judges for this year's award are Laura Broadbent, Michael DeForge, and Nick Mount. Please see their bio information below.
The RBC/PEN Canada New Voices Award is generously funded by the RBC Emerging Artists Project.

Submission Guidelines
All submissions must be received before midnight April 21, 2017
Please send all submissions to: submissions@pencanada.ca
No entry may be altered after submission
It is not possible to confirm receipt of entries by phone or email
Entries must be emailed and must include
1. Cover sheet – this should state applicant contact information (address, phone, email), date of birth, and the title of work being submitted. Download the cover sheet template here.
2. Submission – short stories, creative non-fiction, journalism, and poetry. The title of the submission should appear in the top margins of each page and match the title stated on the cover sheet. The filename of the submission must be the title of the submission and it must be a MS Word file or .rtf.  PDFs will not be accepted.
All entries are judged anonymously. DO NOT INCLUDE YOUR NAME on the document, only on the cover sheet.

Eligibility
All writers must be over 17 but under the age of 30 on April 21, 2017
Writers who have published books may not enter but those with publishing contracts for forthcoming books may enter. Candidates must not have had any book published during the entire duration of the award.
Writers who have published pamphlets, or whose work has appeared in magazines and journals may enter.
All texts entered must be the work of one author only.
All texts submitted must remain unpublished during the entire duration of the award.

Prose Submissions
Prose entries must be between 2,000-4,000 words
Short stories should be double-spaced and a word count noted at the top of the first page
Writers may only submit one prose work

Poetry Submissions
Poetry entries may take the form of individual poems, a sequence, or one long poem of no more than 2,500 words in total
Poems to be single-spaced and a line count noted at the top of the first page

Terms and Conditions
Submissions to PEN Canada will be shortlisted and then evaluated by an independent jury.
Judges for 2017
Meet the judges for this year's award.
Laura Broadbent is the author of Oh there You Are I Can't See You Is It Raining? which won the 2012 national Robert Kroetsch Award for Innovative poetry, Interviews (Metatron Press) and In On the Great Joke (Coach House). She is a 2x PhD drop-out and currently lives in Montreal where she can be found managing Librairie Drawn and Quarterly.
Michael DeForge was born in 1987 and grew up in Ottawa, Ontario. He has published the graphic novels Very Casual, Ant Colony, Big Kids, Dressing and Sticks Angelica: Folk Hero. His illustrations have been published in the New York Times and Bloomberg View; his comics have appeared in the Believer, Maisonneuve, and the Adventure Time comic book series.
Nick Mount is a professor in the University of Toronto's Department of English, where he teaches Canadian literature. He is the former fiction editor of the Walrus, and regularly gives public talks on the arts in Canada, including appearances at the Art Gallery of Ontario, the Arts & Letters Club of Toronto, on TVO's Big Ideas, and  CBC Radio's Sunday Edition. His book When Canadian Literature Moved to New York  won the 2005 Gabrielle Roy Prize for the best book in Canadian literary criticism.  The House of Anansi is publishing his book Arrival: The Story of CanLit in 2017, for their 50th anniversary and the country's sesquicentennial.