The Stamp Collector, PEN Canada and the power of words
By Jennifer Lanthier
When you write for children, they almost always want to know where you get your ideas.
Today, I have an answer.
I'm trying out a workshop for my forthcoming book, The Stamp Collector – a picture book about two boys growing up in a poverty-stricken country. Each leaves school at a young age – one becomes a factory worker, the other a guard.
They meet when the factory worker is sent to prison for writing a story.
The day began with a couple of classes at a Toronto high school and ended with a group of grade six students. With each class, I stop the book at the mid-way point to assign the writing exercise. The students have a choice: finish the story themselves or write something related to the book – a poem or diary entry in the voice of either character.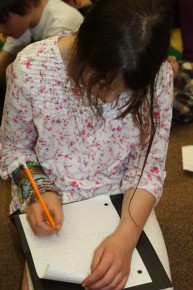 At the front of the classroom I've placed an empty chair for the imprisoned Uighur writer Nurmuhemmet Yasin – sentenced to ten years in a Chinese prison in 2004 for writing a short story. I tell them The Stamp Collector grew out of advocacy work I was doing on his behalf for PEN Canada.
No one has heard of PEN.
They haven't heard of Nurmuhemmet Yasin, Jiang Weiping, Bo Xilai – or even newsmakers such as Ai Weiwei or Chen Guangcheng. They are shocked to hear that journalists and their families are routinely tortured and murdered in Mexico. But the more we talk, the more the students come alive – and when they write, their words reveal a nuanced understanding of fear, hope, sacrifice, courage, and the power of stories.
They write as if they are in the prison, as if they know what it is like to be watched, to be shunned, to be desperately alone. They write about the power of words, the importance of kindness, the need to connect and to share our stories.
Some write in the voice of the writer, most write as the guard. A few attempt to give the story an outright happy ending. Almost everyone reaches for hope.
From the 11-year-olds to the 18-year-olds, they connect with the characters and the story. But they also connect with something bigger: the story of PEN.
We talk about the fact that freedom of expression is messy, that most people are for it until someone says something they dislike.
These students understand that no-one will give them a hard time about raising money to build a well, a school, or a hospital but that standing up for a principle is more complicated. Some clearly want to change the world now; others look nervous.
In one of the grade 12 classes, a girl opts not to finish the story. She stares at the empty chair and writes:
We do not know if he is alive or dead\
He is far from here\
Imprisoned by fear\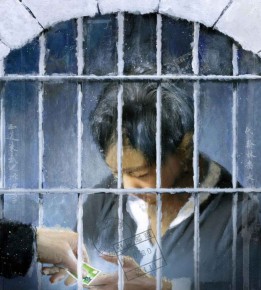 Of something he said\
To them his actions were bad\
He questioned their rules\
Used words as tools\
His words made them mad\
My problems seem silly, my speech is free\
I question and think\
With my page and ink\
But that chair is where he should be
The Stamp Collector will be published this fall by Fitzhenry and Whiteside. Illustrated by Francois Thisdale. The above illustration appears in The Stamp Collector.