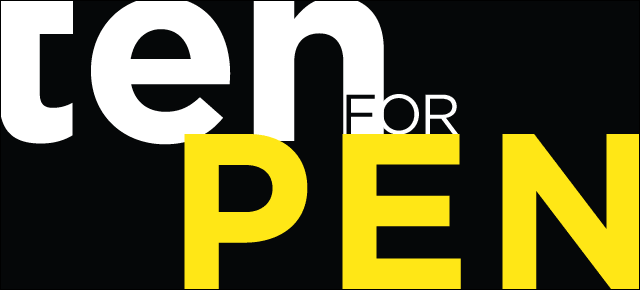 "PEN is like most writers I know: passionate, principled, stubborn and willing to speak out. PEN, matter of fact, is the voice, the conscience, of writers everywhere. More than 140 centres operate on six continents, with PEN Canada considered among the most active and effective. People look to us for leadership and we, in turn, rely on members, donors, patrons, and sponsors to help us do our work. Without equally passionate and principled supporters, we can't be nearly as effective as we need to be. Please join us. Free expression matters. Your support matters."
–Charlie Foran
PEN Canada
JOIN PEN CANADA TODAY!
It costs $75 a year to be a member of PEN. You can pay this as a one-time fee or distribute your contribution through the year. Writer members include, but are not limited to journalists, playwrights, editors, translators, screenwriters, radio and television dramatists, documentary makers, song-writers and other individuals in the field of writing. Student memberships are $25 a year. Contributions to PEN Canada are tax-deductible. You will receive a tax receipt for all dues and donations. You can pay your membership fee by:
clicking through to a membership payment form below
calling the PEN office with your credit card information
sending a cheque payable to PEN Canada to 24 Ryerson Ave, Suite 301, Toronto ON, M5T 2P3
TEN for PEN!
TEN for PEN is a simpler, more convenient, more effective way to start and renew your membership. By giving only $10 a month through this method of sustained support, you will not only avoid receiving annual membership renewal reminders, you will help reduce PEN's administrative costs. Moreover, with your small additional donation, you will help advance PEN's vital work on behalf of persecuted writers and in defence of freedom of expression at home and abroad.
(In the comment section of the payment form please indicate your membership type – writer or student.)
NOTE: When you click through to the payment window please enter the amount you wish to donate monthly. This amount will then be drawn from your credit card each month. All monthly payments are charged on the 15th  of every month. Your monthly donations will begin the month after your initial payment.
Benefits of being a PEN member
All PEN Canada members are eligible for health, auto and home insurance plans through the Writers Coalition of Canada. Check out the plan at writerscoalition.com
For more information, contact:
Pari Rajagopalan, Office Manager
PEN Canada
Phone: 416 703 8448 ext 25
prajagopalan@pencanada.ca
Secure Online Credit Card Processing