Photo credit: Christine Wu
TORONTO, Thursday, August 3, 2023 – Christine Wu has won the 2023 RBC/PEN Canada New Voices Award. For her winning submission, Hungry Ghosts, she will receive a $3,000 cash prize and mentorship from a Canadian author.
A distinguished jury of Canadian writers, including Jónína Kirton, Chelene Knight and Alexander MacLeod, chose Wu from almost 300 entries.
"Hungry Ghosts is a deeply moving and masterfully crafted collection of poems that surpasses the boundaries of memory, love, family, and personal growth," reads the jury citation. "The writer's exquisite precision and grace, infused with profound wisdom, skillfully navigates the delicate art of letting go, effortlessly weaving the tapestry of past and present."
Wu, a Chinese-Canadian poet living in Kjipuktuk (Halifax, Nova Scotia), has been published in several literary magazines. She holds a BFA from the University of Victoria, a MLIS from Dalhousie University, and a MA from the University of New Brunswick.
The jury also selected four finalists: Lindsay Foran (How to Build a Bomb), Catherine St. Denis (The Essential Involvement of the Harpist), Luka Poljak (Ares of Dalmatia and Blue Sea) and Sharlene Lazin (A Widow's Notebook).
Now celebrating its 10th anniversary, the RBC/PEN Canada New Voices Award encourages new writing and provides a space for unpublished Canadian writers, aged 17 and over. Previous winners include Fareh Malik, Emily Dial and Deepa Rajagopalan.
The award is funded by the RBC Emerging Artists Program, which supports the arts and the role they play in building vibrant communities and strong economies. Since its inception, the program has supported over 35,000 emerging artists across the globe.
Selection from Hungry Ghosts (PDF)
***
Finalists
Lindsay Foran — How to Build a Bomb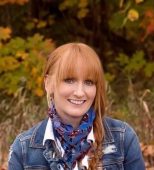 Lindsay Foran has her MA in English from UOttawa and now lectures part-time in the same department. She graduated with a Letter of Distinction from the Humber School for Writers and has completed a certificate in creative writing from SFU. Her short stories and poetry have been published in numerous journals, including carte blanche, Maple Tree Literary Supplement, and Bywords. She was also a finalist for the 3Macs Short Fiction Prize (part of the Quebec Writers Federation Awards), and she was on the longlist for the CBC Short Story Prize (2023). When not writing, she's a busy mother to three small children and one large dog. She is currently finishing edits on a novel.

Photo credit: Sara McConnell Photography
Jury Citation
As its title suggests, How to Build a Bomb is a delicate narrative with an explosive central conflict. What happens when the border dissolves between our internal and external worlds? With impressive command of characterization, plot, and structure, this is a very careful story about disintegration.
Selection from How to Build a Bomb (PDF)
***
Catherine St. Denis — The Essential Involvement of the Harpist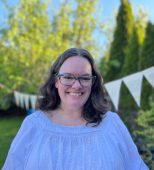 Catherine St. Denis (she/her) lives, writes, sings, teaches, and parents on the unceded territories of the Lekwungen-speaking peoples. Her work recently appeared in Rattle and The Malahat Review. She was a finalist for PEN Canada's 2022 New Voices Award and her poems have been shortlisted for The Fiddlehead's poetry contest, CV2's Foster Poetry Prize, and The Toronto Arts and Letters Club Award.
Photo credit: Kyla Morrison Morgan
Jury Citation
The Essential Involvement of the Harpist is a tender and honest contemplation on motherhood and the loss of control one feels once they bring a child into a world that is not always safe. In this collection we learn that calamity arrives in increments and that beauty still exists if we don't turn away from life.
Selection from The Essential Involvement of the Harpist (PDF)
***
Luka Poljak — Ares of Dalmatia and Blue Sea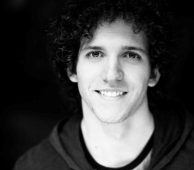 Luka Poljak is a Canadian-Croatian poet. He was recently a finalist for the 2022 CBC Poetry Prize.
Photo credit: Ian Redd Photography

Jury Citation
Chaotic, but beautifully crafted, lost, but full of life, the poems in Ares of Dalmatia and Blue Sea cover decades of family history as they explore the lingering intergenerational trauma of war. Formally innovative, these lines—like the subject matter they are trying to grapple with—push the language of love to its extreme.
***
Sharlene Lazin — A Widow's Notebook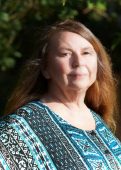 A new voice is not always a young one. Sharlene Lazin was a teacher of students with learning disabilities, an instructor in the Faculty of Education at SFU, and then a high school vice-principal. There were always curriculum materials to write, but more creative work waited until retirement. In recognition of the timer counting down, in her 70s, even while volunteer tutoring students with learning challenges, as well as teaching English to Ukrainians fleeing the war, she has completed her first novel, and a poetry manuscript, and is working on a second novel that wrestles with the intersection of food, disability and hate. Although born and raised in California, she is Canadian and has lived here since the 60s. For the last 15 years, her home has been on Mayne Island, on British Columbia's coast.
Photo credit: Ann Marie Camilleri
Jury Citation
A Widow's Notebook leaves us with nowhere to hide. The pain of this loss and the love for their partner is felt throughout the collection which skillfully and intimately navigates the main truth embedded in these poems. At times, there is no resting in peace/for the lovers left behind.
Selection from A Widow's Notebook (PDF)