PEN Canada nominates Emily Izsak for the New Voices Award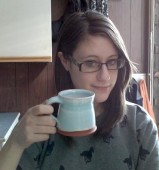 PEN Canada is pleased to announce that Emily Izsak is the 2014 nominee for the PEN International New Voices Award. Her poem "Oneida Drive" was selected from more than 100 poetry and prose submissions received from across the country.
PEN Canada would like to thank jurors Mark Medley, Stacey May Fowles, and Iain Reid, as well as the talented writers who sent in their submissions.
The New Voices Award, now in its second year, aims to encourage new writing and to provide a space where young, unpublished writers can submit their work. The winning writer, selected from the submissions of PEN centres around the world, will be published by PEN International and will receive a $1,000 prize. A jury at PEN International will review submissions and release a longlist later this summer.
We wish Emily the best of luck!
Emily Izsak lives and writes in Toronto. Her work has previously appeared in Maple Tree Literary Supplement, The Hart House Review, The Steel Chisel, and Diaspora Dialogues' Shorthand. She is currently pursuing a bachelor's degree in English and will enter her fourth year at the University of Toronto this fall.