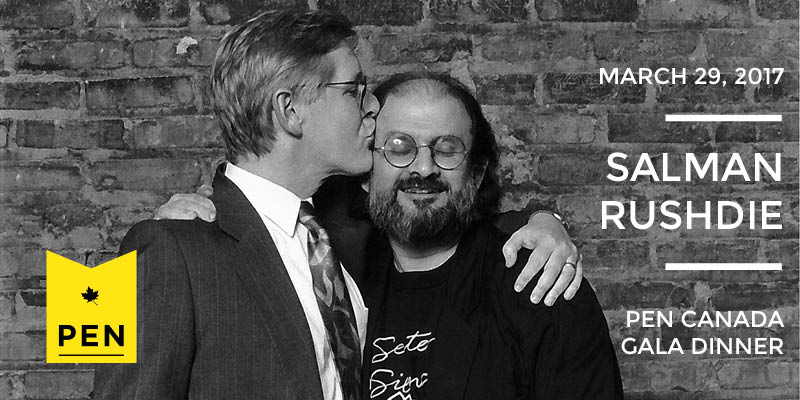 Page Redirection

If you are not redirected automatically, follow this link.
2017 PEN Canada Gala Dinner Honouring Salman Rushdie

Salman Rushdie, in conversation with Randy Boyagoda
Wednesday, March 29, 2017
Burroughes Building, 6th floor
639 Queen St. West, Toronto
6:30 Cocktail Reception
7:30 Dinner Program
Tickets: $500
Tables of 10: $5000
To purchase please call 416 703 8448 ext 2223
This intimate dinner will celebrate a landmark literary and human rights anniversary: when Rushdie famously emerged from hiding to attend a PEN Canada benefit twenty-five years ago. There, Bob Rae became the first Western leader to stand publicly by his side, and we are delighted to announce that Rae, along with many of the original PEN members who made that evening possible, will be reunited on this special evening.
Funds raised at the dinner will make it possible for PEN Canada to continue to support writers-in-peril and to defend freedom of expression as a fundamental human right. Over the past thirty years PEN Canada has helped free over 45 imprisoned writers, and found placements within Canadian academic institutions for over 35 writers-in-exile. In just the past year, seven writers and journalists – four from Ethiopia, one from Honduras, one from Brazil, and one from Bangladesh – fled threats of violence and settled safely in Canada.
For information on sponsorship, please contact Grace Westcott at 416 703 8448 ext 2222 or gwestcott@pencanada.ca.