Five Questions for Jiang Weiping
Bo Xilai, the former boss of the Chongqing Communist Party, was recently sacked after a corruption scandal involving his family. Jiang Weiping, an Honorary Member of PEN Canada, is a Chinese journalist who served a six year prison sentence for "inciting subversion of state power" after he published an exposé of Bo's corruption more than a decade ago. PEN Canada supported Jiang throughout his prison sentence and in 2009 helped reunite him with his family in Toronto. On 18 April, 2012, Jiang had the following exchange with our president, Charlie Foran.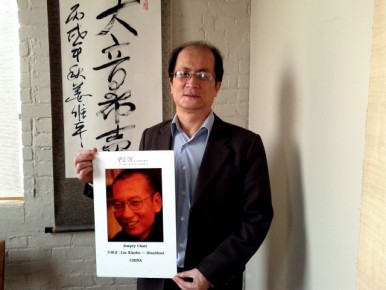 Jiang Weiping holds up photo of PEN Honorary Member Liu Xiaobo.
Charlie Foran: The fall of Bo Xilai is a global news story right now. You are part of this story. Can you explain?
Jiang Weiping: The news of Bo's downfall didn't surprise me at all. For more than 20 years, I was one of the few journalists who knew Bo well and had detailed knowledge of his political and family life. Moreover, in 1999, I was the first reporter in China to publicize his corruption and lawbreaking. As a result, I was wrongfully arrested on Dec 4, 2000 on direct orders from Bo — in retaliation for an article published in the July issue of Frontier magazine the previous year, an exposé of the corruption and bribery in which he and his wife, Ms Gu Kailai, were deeply involved.
On Jan 21, 2002, I was given an 8-year sentence in prison by Dalian Municipal Court for "leaking national intelligence overseas" and "inciting subversion of state power". On appeal, the Liaoning Provincial Court reduced this to 6 years.
It was shocking and totally wrong to conclude that a government official's criminal acts could be regarded as "National intelligence", and that they could present themselves as an embodiment of the state. My case was a typical example of how justice is often overshadowed and replaced by power in China's judicial system. I was stripped of all human freedom and dignity for more than 5 years during my time in prison.
I see my incarceration as a loss for Bo, too: by using his influence over the judicial system to retaliate against any opposition, he added another count to his already long list of crimes. I'm glad to know that Bo has finally been arrested, but I also regret that he has been able to get away with so much in the past.
答:我对他倒台不感到惊奇,从上个世纪在大连开始贪腐和枉法,他历时二十多年,我都是近距离的目击者,也是最早的揭露和批判者,如果在1999年我发表文章时,他听取了我的批评,就不会有今天。我在1999年的7月号的《前哨》发表文章揭露他和太太贪污受贿的罪行,被其下令在2000年12月4日拘捕,2002年1月21日被大连中级人民法院一审判刑8年,二审由辽宁省高级人民法院改判六年,他们强加给我的罪名是"向境外非法提供国家机密",和"煽动颠覆国家政权",他把马向东等官员的贪腐当成"国家机密",把自己当成国家政权的代表者,把敢言记者关进了监狱,这是颠倒是非,混淆黑白,枉法追诉,他使我蒙受了五年多的冤狱,也使自己失去了改正错误,停止作恶的机会,如今,他终于成了阶下囚。所以,我在高兴的同时,也感到遗憾。
CF: Everything you reported in China about Bo"s dealings, and all casino australian that you have written about him since from Canada, has been vindicated. Does this make those years in prison, and forced silence, easier to bear?
JW: I never lost confidence that what I had chosen to do was right. I finished drafting my second book The Memoir of My Prison Life shortly after my release from prison on Jan 3, 2006. At that time, Bo was no longer in Liaoning, but his former secretary, Che Keming, was still a part of the leadership at Dalian Security Bureau in Liaoning province. I was under tight security monitoring for 3 years. Meanwhile, I kept following the story of Bo and his family and collected research for my first published book The Life of Bo Xilai.
After landing in Toronto on Feb 4, 2009, I felt huge relief at being able to write and report freely without looking over my shoulder. The Life of Bo Xilai has since been published in Hong Kong and more than a million words have been republished in Chinese media outside mainland China. Those articles focused on the life of Bo and his family in the past decade.
I have reason to believe that these articles played a key role in expediting Bo's downfall. I truly believe the details of his case will be publicly revealed by the Chinese central government in the days to come. If that happens, I will feel delighted and have no more regret for myself since my personal sacrifice will have helped to bring about justice.
我2006年1月3日出狱后,并没失去信心,我写出了狱中回忆录的初稿。薄熙来虽然离开了辽宁,但他原来的秘书车克民还是大连国安局的领导,他利用手中的权力监控了我整整三年,此间我也秘密调查了他三年,2009年2月4日来到加拿大之后,我有了免于恐惧的新环境,辛勤写作,出版了一本《薄熙来传》,还发表了上百万字的文章,继续揭露和批评薄熙来,他能有今天的下场与这些文章提供的线索有关,相信中纪委正在寻找证据,不久后,薄熙来谷开来夫妇贪腐丑闻会曝光,这一定是十分惊人的,为此我感到心情平和,为了中国的进步,我付出五年多的坐牢的代价是值得的。
CF: What does the Bo Xilai scandal tell us about contemporary China?
JW: It makes two important points: firstly, it is unprecedented under the leadership of president Hu Jintao for a Communist party official as senior as Bo to be toppled. This will have a profound impact on Chinese politics. Secondly, Bo's case signals an urgent need for political reform. Corrupt officials like him are the outcome of a centralized, one-party political system with insufficient oversight. The government cannot discipline public servants properly without an independent judicial system and freedom of press. It is sad that we have had to wait so long for this corruption to be brought to justice; so much damage has been done. Democracy and a transparent legal system would have helped to prevent these crimes much earlier.
这一事件说明了两个问题,一是胡锦涛的反腐力度是前所未有的,意义重大,是顺应历史潮流和民意的,影响深远;二是薄的丑闻说明政治体制改革的重要性和迫切性,产生他这样贪官的主要原因是一党执政的制度没有监督,没有独立的司法体系和新闻自由,结果造成各级官员很容易犯罪,因此,不要等官员犯法再抓他,而应当靠民主和法制去制约他。
CF: Are human rights in China more respected now than they were ten years ago?
JW: There have been certain changes compared with ten years ago: living conditions in China's prisons, for example, have improved a lot. But overall, in essence, not much has improved. Respect for and the protection of human rights still has a long way to go.
与以前比较,有进步的地方,比如,监狱的物质条件有了较大改善,但整体上讲,没有根本的改变。在中国,尊重和保护人权还停留在纸面上,还有很长的路要走。
CF: Your harassment by Chinese officials continued even after you settled in Toronto in 2009. And yet, successive Canadian officials, including prime ministers, made a point of courting Bo Xilai. Should western governments take a stronger stand on free speech when dealing with China?
JW: Western leaders rarely have the chance to get to know Chinese officials well. They deal only with the surface. Bo successfully passed himself off as one of the new, open-minded Chinese officials instead of the old guard bureaucrats. He speaks English well, dresses in suits and has what is considered to be a genteel manner. As a former Minister of Commerce, he used to play a role in trade deals between Canada and China. Like many others who covet a piece of China's market, the Harper government needed a trading partnership to improve Canada's economy. Of course, anyone that could push this agenda would be a good friend of Canada. Bo was on that list of friends. But that shouldn't mean that fundamental values like freedom of speech and human rights can be ignored.
I'd like to mention one last thing: my home computer was the target of daily cyber attacks for more than 3 years before Bo's downfall. Recently, it has been functioning surprisingly well. It's not hard to guess who was behind those attacks. I feel true joy now, and sincerely pray that further improvements in human rights and press freedom will happen sooner in China. I sincerely hope that no other journalists will have to suffer a wrongful conviction like mine just because of what they have reported.
西方国家的政要与中国官员接触时间短,只是浮光掠影,走马观花,薄熙来善于伪装和表演,在见到哈珀等人时,像孔雀开屏一样把最亮丽的一面展示给他看,当然很容易迷惑他,何况薄熙来又答应给加拿大一些经贸合作的物质利益,所以,他们很容易一见如故,而且,西方国家在与中国官员交往时,主要是国家利益至上,有了经济合作,就遗忘了言论自由理念和普世价值,不足为奇。另外在薄熙来倒台前,我的电脑网络不断受到攻击,但近期情况好转,工作正常,这说明薄熙来及其死党是骚扰我的幕后黑手,我为他的垮台而感到欣慰,但愿因言获罪的文字狱能尽快地在中国彻底消失。
— Translation by Sharon Wu