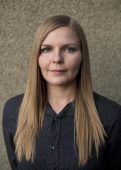 The Canadian photojournalist Amber Bracken has won PEN Canada's 2022 Ken Filkow Prize for advancing freedom of expression in Canada. Bracken's work combines an interest in photography, journalism and public service with an emphasis on North American Indigenous communities.
In its citation  the jury states: "Amber Bracken's ordeal demonstrates that freedom of expression, including freedom of the press, are not as sacrosanct in our country as Canadians might assume. Her courageous work as a photojournalist for The Narwhal magazine, covering the Coastal Gaslink protests in Wet'suwet'en territory in northern BC, resulted in her [and her colleague, documentary filmmaker, Michael Toledano's] improper arrest and detention. Amber's story is a case study of the need to protect these fundamental freedoms even in Canada."
The PEN Canada/Ken Filkow Prize is named in memory of Kenneth A. Filkow, Q.C., a distinguished Winnipeg lawyer, former chair of the Manitoba Human Rights Commission, and an active member of PEN Canada's Canadian Issues Committee. The prize is funded by Cynthia Wine, and former PEN Canada President, Philip Slayton. Previous winners include Canadian journalists Justin Brake and Desmond Cole, the Bangladeshi author and blogger Raihan Abir, the artist Franke James and the legal scholar Amy Lai.
Photo credit: Jason Franson