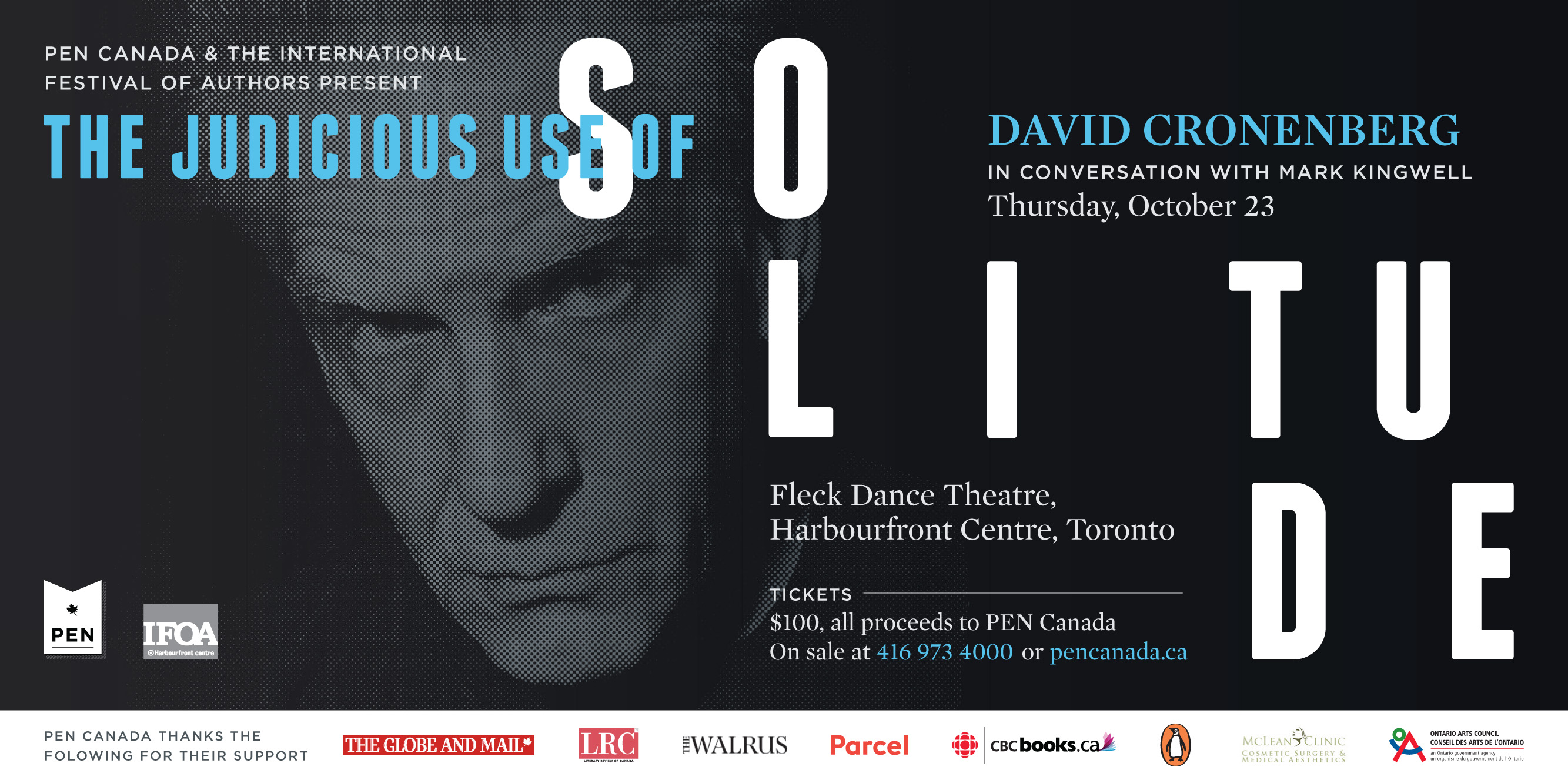 The Judicious Use of Solitude – a Conversation with David Cronenberg
Thursday, October 23, 2014 – 8:00 PM Fleck Dance Theatre – Harbourfront Centre
207 Queens Quay West
Toronto, M5J 2G8
Crime, disease and philosophy entangle themselves in David Cronenberg's dark debut novel, Consumed. At PEN Canada's Benefit, on the opening night of the International Festival of Authors, philosopher Mark Kingwell will discuss how these themes relate to Cronenberg's decades-long engagement with writers like J.G. Ballard, William S. Burroughs and Vladimir Nabokov.
Tickets are $100 with all proceeds to PEN Canada
David Cronenberg, frequently lauded as one of the world's most influential directors is best known for such modern classics as Naked Lunch, Crash, A History of Violence, and A Dangerous Method. His debut novel, Consumed, a sexually charged story of dark impulses and appetites, will be published by Penguin Books on Sept. 30.
Mark Kingwell is an award-winning Professor of Philosophy at the University of Toronto and a contributing editor of Harper's Magazine in New York. His many books include the national bestsellers Better Living (1998), The World We Want (2000), Concrete Reveries (2008), and Glenn Gould (2009). His essays have appeared in, among others, the New York Times, Wall Street Journal, The Guardian, Utne Reader, BookForum, Adbusters, the Globe and Mail, the National Post, Queen's Quarterly, and The Walrus. Kingwell's most recent books are the essay collection Unruly Voices (2012) and two illustrated pamphlets, Frank's Motel (2013) and Democracy's Gift (2014). In order to secure financing for their continued indulgence, he has also written about his various hobbies, including fly fishing, music, mystery stories, baseball, and cocktails.