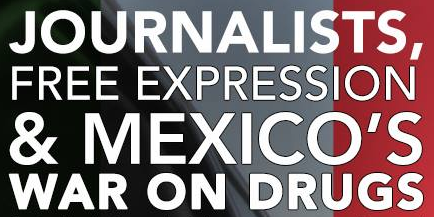 Journalists, Free Expression, and Mexico's War on Drugs
Thursday March 9, 2017
12:00pm to 1:30pm
Rogers Communication Centre, Room 103
Ryerson University
80 Gould Street
Toronto, Ontario
An inside look at what's happening to journalists and free expression in Mexico, which, since 2006, has become one of the world's most dangerous countries for journalists. Corruption, impunity and censorship from both drug cartels and the government eroded press freedom and freedom of expression. Reporters have been threatened, forced to flee, or ultimately killed. As conflict evolved, organized crime groups found in social media a platform to challenge the state, terrorize the community and attract followers.
Speakers:
Luis Horacio Nájera, Exiled Mexican journalist & 2016 PEN Canada Writer-in-Residence at George Brown College
James Cullingham, Documentary Filmmaker, teaching the cultural history of Mexico at York University and Seneca College
Co-sponsors: Canadian Journalists for Free Expression, PEN Canada and Ryerson Journalism Research Centre
Please contact cfe@ryerson.ca if you require accommodation to ensure inclusion in this event.