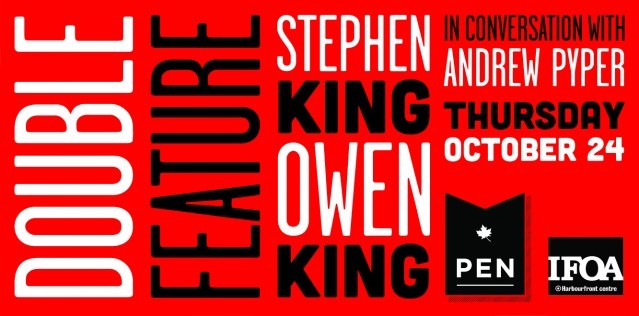 2013 PEN Benefit in Collaboration with the International Festival of Authors
***SOLD OUT***
Thirty-nine years, 50 books, and 350 million copies into his literary career, Stephen King discusses the writing life with his son, first-time novelist Owen King. Best-selling suspense writer Andrew Pyper moderates the discussion, on the opening night of the International Festival of Authors.
Thursday, October 24, 2013 8pm
Fleck Dance Theatre, Harbourfront Centre
All proceeds go to PEN Canada.
Owen King is a graduate of Vassar College and the MFA program at the Columbia University School of the Arts. He is the author of Double Feature: A Novel and We're All in This Together: A Novella and Stories. His writing has appeared in Fairy Tale Review, Guernica, One Story, and Prairie Schooner, among other publications. Owen has also taught creative writing at Columbia University and Fordham University and is a working screenwriter with a script in development by the producer of Winter's Bone. He is married to the novelist Kelly Braffet.

Stephen King was born in Portland, Maine in 1947, the second son of Donald and Nellie Ruth Pillsbury King. He made his first professional short story sale in 1967 to Startling Mystery Stories. In the fall of 1973, he began teaching high school English classes at Hampden Academy, the public high school in Hampden, Maine. Writing in the evenings and on the weekends, he continued to produce short stories and to work on novels. In the spring of 1973, Doubleday & Co., accepted the novel Carrie for publication, providing him the means to leave teaching and write full-time. He has since published over 50 books and has become one of the world's most successful writers.
Stephen lives in Maine and Florida with his wife, novelist Tabitha King. They are regular contributors to a number of charities including many libraries and have been honored locally for their philanthropic activities.
Andrew Pyper is the author of six internationally bestselling novels. His most recent book, The Demonologist, was a #1 Canadian hardcover bestseller and has been acquired by ImageMovers (Robert Zemeckis' production company) and Universal Pictures for adaptation to feature film. The Demonologist has been published by Simon & Schuster in the US and Canada, and will appear internationally in translation in over sixteen foreign languages. Among his earlier novels, Lost Girls won the Arthur Ellis Award, was a New York Times Notable Book of the Year and appeared on both the New York Times and Times (UK) bestseller lists, The Killing Circle was a New York Times Crime Novel of the Year, and The Wildfire Season and The Guardians were both Globe and Mail Best Books. This summer, Andrew was presented with the Grant Allen Award for contributions to Canadian mystery and thriller writing. He lives in Toronto.
Photo credits: Owen King (Danielle Lurie); Stephen King (Shane Leonard)