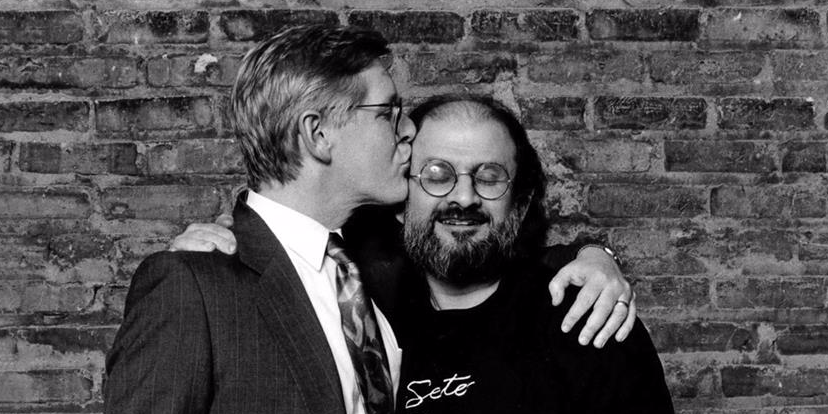 Code Name Sally
November 28, 2017
Bloor Hotdocs Cinema
7:30 – 9:30 p.m. 
Tickets: $11.50 (PEN members should check their e-mails for a discount code)
Code Name Sally is a short documentary by Ari and Sturla Gunnarsson that celebrates the 25th anniversary of PEN Canada's finest hour. In the fall of 1992, Salman Rushdie was in deep hiding somewhere in England, condemned to death for blasphemy. In Toronto a small group of PEN Canada leaders launched an audacious secret mission to help him regain his freedom. Featuring interviews with Salman Rushdie, Louise Dennys, John Ralston Saul, Adrienne Clarkson, Ric Young, Marian Botsford Fraser, Bob Rae and Barbara McDougall.
"I've seen 'Code Name Sally' and it's a wonderful little film. Moving, funny and inspiring, it tells the cloak-and-dagger story of a Canadian mission like no other, while revealing the significance of an extraordinary moment in our cultural and political history. A must see — for the small price of supporting an essential cause."– Brian D. Johnson
POST SCREENING DISCUSSION hosted by PEN Canada President Richard Stursberg, with PEN Canada past-presidents Louise Dennys and Marian Botsford Fraser, former Ontario premier Bob Rae and filmmaker Sturla Gunnarsson.
All proceeds from ticket sales go directly to PEN's #GivingTuesday fundraising. To donate, click here.
---
Filmmaker's Statement
I was at the PEN benefit twenty-five years ago and still remember what an electric, communal moment it was when Rushdie emerged from deep hiding to appear, unexpectedly, on the Winter Garden stage.  There was this powerful sense of community and of moral clarity, a feeling I've associated with PEN Canada ever since.
What I didn't know at the time was what a compelling behind-the-scenes drama bringing Rushdie to Canada had been. Nor did I realize, until much later, that this was the seminal moment in his journey from fatwa to freedom. All of this became clear to me earlier this year, when Suzanne Depoe called on behalf of the PEN Canada Board to seek advice on how to go about making a film to commemorate the event. I agreed to meet with the principal players – Louise Dennys, John Ralston Saul, Ric Young, Marian Botsford Fraser and Adrienne Clarkson – and was captivated by the story. Doing a little internet search, I was dismayed to discover that the story is virtually unknown, and realized it would be lost forever if it wasn't documented. My son, Ari, was visiting from China, where he makes documentaries, so I asked him to join me and make this film as a gift to PEN Canada, in recognition of the work they do to promote our most cherished value – freedom of expression.
To me this is a profoundly Canadian story about what a small group of people animated by a righteous ideal are capable of achieving. A modest little film with a big theme.
Sturla Gunnarsson
19 October, 2017
---
The Filmmakers
Ari Gunnarsson
Director
Ari Gunnarsson is a Canadian photographer and filmmaker living in China.  He is a graduate of University of Kings College and McMaster University in Canada and has studied Chinese at Beijing Normal University.  He has had several gallery exhibits of his photography in Beijing and has directed music videos for Chinese record labels for bands including Djang San and The Harridans. Gunnarsson is currently making his first feature documentary, Chasing Spring.
Sturla Gunnarsson
Writer/Producer
Sturla Gunnarsson is an Oscar-nominated, Emmy Award-winning Canadian filmmaker. He has directed feature films, feature documentaries and over fifty hours of premium television drama, most recently including the Canadian Screen Award-winning police drama 19-2 and the CBC/Netflix comedy Schitt's Creek.
Gunnarsson's most recent film, Monsoon, was selected as one of TIFF's 'Top Ten Canadian Films', winning the People's Choice Award.  Previous TIFF-launched films include Force of Nature (People's Choice Doc Award winner) Beowulf & Grendel (Gerard Butler, Stellan Skarsgard), Rare Birds (William Hurt, Molly Parker) and Such A Long Journey ( Roshan Seth, Om Puri).
Gunnarsson is the Past President of the Directors Guild of Canada.