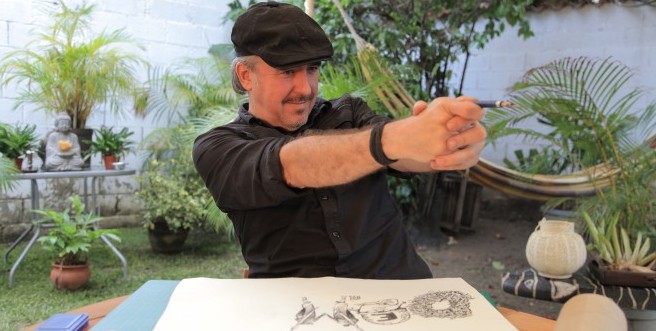 Cartoonists: Foot Soldiers of Democracy
Director: Stéphanie Valloatto
Toronto Premiere
Co-presented by PEN Canada
Friday, March 27
Cinema 2
6:00 p.m.
Saturday, March 28
Cinema 2
8:15 p.m.
In this ominously timed documentary, director Stéphanie Valloatto investigates 12 international artists who risk everything for freedom of expression. The story will be keenly felt as a grim portent of the tragic events at the Charlie Hebdo offices in Paris. Political cartoonists occupy a space that is fraught with risk—of censorship, backlash and physical harm—and create provocative work with the goal of eliciting a response. This documentary provides an in-depth look at the unique position these artists occupy.
Featured artists: Plantu (Jean Plantureux), Willis from Tunis (Nadia Khiari), Angel Boligán Corbo, Slim (Menouar Merabtène), Mikhail Zlatkovsky, Rayma Suprani, Damien Glez, Baha Boukhari, Michel Kichka, Zoho (Lassane Zohore), Pi San (Wang Bo) and Jeff Danziger.
Friday, March 27
Cinema 2
6:00 p.m.
At the March 27 screening, producer Stéphanie Valloatto will introduce Cartoonists: Foot Soldiers of Democracy, and then moderate a panel discussion on political cartooning in Canada with cartoonists Bruce MacKinnon and Brian Gable and editor Haroon Siddiqui.
Before the film, there will be a screening of the short Micah Lexier: Finder, Keeper by Jennifer Baichwal.
Saturday, March 28
Cinema 2
8:15 p.m.
At the March 28 screening, Stéphanie Valloatto will introduce the film, and John Ralston Saul will give the keynote address on the theme of freedom of speech.
Before the screening, Gary Taxali: The Art of Whimsy will be premiered. Gary Taxali: The Art of Whimsy is a short film on the award-winning Canadian artist in which directors Kyriakos Alexopoulos and Ryan Walker profile Taxali in his private workspace, as he talks about the aged-quality, texture and timelessness of his artwork.
Stéphanie Valloatto
St-Malo–based Stéphanie Valloatto is a director and writer known for Cartoonists: Foot Soldiers of Democracy (2014), Empreintes (2011) and La femme seule à la robe bleue (2001).Cartoonists: Foot Soldiers of Democracy was nominated for Best Documentary Film at the 2015 César Awards.
Bruce MacKinnon
Bruce MacKinnon is a political cartoonist from the ChronicleHerald in Halifax. He started drawing cartoons professionally at the age of 14, when he was hired by the Antigonish local weekly, The Casket. MacKinnon has won three National Newspaper Awards (1992, 1993 and 2013) and came in second in the World Press Cartoon competition in 2004. In 2014, he won the World Press Freedom Award and second prize in the 2014 Niels Bugge Cartoon Award.
Brian Gable
Brian Gable is the editorial cartoonist for the Globe and Mail. He started freelancing as a cartoonist in 1977 for The Recorder and Times in Brockville. He later became the editorial cartoonist of the Regina Leader-Post and worked there until he moved to the Globe and Mailin 1987. He won the National Newspaper Award in 1986, 1995, 2001 and 2005. He has also published a series of children's books titled Words are Categorical.
Haroon Siddiqui
Haroon Siddiqui is editor emeritus and columnist for the Toronto Star. He has long been engaged with the issue of free speech and written extensively on it, contributing to Drawing Fire and The State of Political Cartooning, and dedicating a chapter in his book Being Muslimto such post-9/11 freedom-of-speech controversies as the Danish cartoons crisis. A former president of PEN Canada and an elected director of PEN International, he remains active in the development of PEN centres worldwide, especially in the Indian sub-continent, where free speech is under attack by Muslim and, lately, Hindu fundamentalists.
John Ralston Saul
John Ralston Saul is an award-winning essayist and novelist. He is known for his commentary on the role freedom of expression and was elected president of PEN International in 2009. He has been declared a "prophet" by TIME magazine and a visionary by the Utne Reader. He has written more than a dozen works, which have been translated into 27 languages, and has 17 honorary degrees from international universities. He is a Companion of the Order of Canada and a Chevalier of the Order of Arts and Letters in France.
All Festival screenings will be held in Cinema 2 at TIFF Bell Lightbox, Reitman Square, 350 King Street West. Seating is first come, first served.
Program is subject to change.