June 4, 2014 marks the 25th anniversary of the Tiananmen Square Massacre in Beijing. In the spring of 1989, protests had been mounting against the governing Chinese Communist Party's corruption and restrictions on free speech. At its peak, the movement drew nearly a million students, labourers, and civilians for peaceful protests in Tiananmen Square. On June 4, 1989, the government authorized the military to open fire on unarmed civilians to suppress the protests. The government said 200-300 people were killed but the China Red Cross places the death toll between 2,000-3,0000.
Sheng Xue, a PEN Canada Writer-in-Exile and a member of the International Chinese PEN Centre, recalls what it was like to be on the ground when the massacre unfolded. In this piece, originally published in May 1990 and translated by J. Fon. in May 2014, Xue chronicles the events leading up to June 4th and their immediate aftermath.
Remembering Tiananmen 25 years later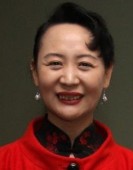 June 3, 1989
After being stuck in a crowd on Chang'an Avenue for hours, we learned that the army had used tear gas to disperse a crowd in Liu Bu Kou – close by, near the centre of the city. Even in the heat and humidity, I felt a chill down my spine. We heard that many had been injured.
When the army marched on the town, I couldn't help noticing the irony. The Chinese Communist Party had founded the People's Republic here, 40 years earlier, but instead of goosestepping in uniform, they'd entered Beijing quietly, disguised as peasants, weapons hidden in their bags. Now they were pulling ordinary citizens from the streets as they moved behind enemy lines – just as they had done before.
TV and radio announcements kept warning us: "Stay off the streets while the soldiers enforce Martial law in Tiananmen Square. The People's Liberation Army will use all necessary means to overcome obstacles." The army did not look like they were here just to "clear up" Tiananmen Square. They were bloodthirsty, spreading fear to every corner of the square. I was distraught, unsure about what to do next.
A long night of violence
A friend appeared, her pale face streaked with tears. "They did it. They're doing it," she cried. I ran to the window and saw the troops rolling in to Tiananmen Square. Without a second thought, I went out into the streets.
A crowd separated four soldiers from the ranks. Inexplicably, the troops ignored the lost soldiers – as if they were meant to be left behind. The crowd circled the soldiers and knocked them down. I rushed forward shouting: "Stop! They are the same as you and I. Stop! Tell them the truth." I could hardly hear my own voice. A youth picked up a spiked club that one of them had dropped. I looked back to see the four soldiers beaten and bleeding. Another tragedy of Chinese killing each other. It took all my strength to run to Tiananmen Square.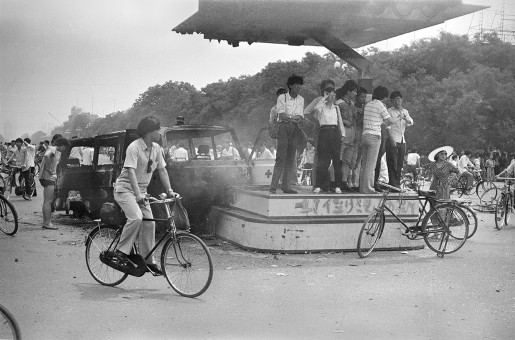 The streets were silent. A month before they'd crackled with noise but now they were cold, deeply sad places. They had witnessed too much wrath, misery and despair.
Passing the entrance to the Municipal Bureau of Public Security, I came across a heavily armed riot police blockade. They pushed through the crowd, swinging their clubs, but whenever they broke up the crowd, we regrouped. The violence escalated. We dug up bricks from the pavement and cracked them into small chunks to throw at the so-called "guards of social interest and people's benefits," and "defenders of human justice and reputation." The crowd shouted: "Rascal government, bandit troops, and police accomplices. Students are innocent." Our voices were broken, our hands wounded, our hearts were filled with sorrow.
Our people are combative, always jostling each other. We have fought amongst ourselves for thousands of years… When will these sacrifices serve as a memorial for the country's current tragedy?
Aren't the Chinese a cursed nation – killing their fellow countrymen? Or has God chosen us to take on the burden of human suffering?
The police moved in waves, charging at the crowd and beating them down savagely with clubs before retreating into the building. Injured protestors streamed out of Tiananmen Square. I watched tears run down the dark, wrinkled face of one man. "Son of a bitch! Chinese communists devoid of gratitude," he spat. He pushed a cart, with a young body on top of it, soaked in blood. The crowd filled bottles with gasoline, to make Molotov cocktails. Chunks of stone flew from both sides of the pavement as the Molotov cocktails etched fiery arcs in the night. In the distance, you could hear sarcastic chants clearly: "The enemy advances, we retreat. The enemy pauses, we make trouble. The enemy tires, we attack." Mao had used these lines to rouse his "proletarian revolutionaries" to guerrilla warfare. Now the melody was strong and the meaning was even greater. The "offenders" and the "defenders" could not beat each other. I was forced to surrender whatever remaining delusions I harboured about government emancipation. It hurt to let them go.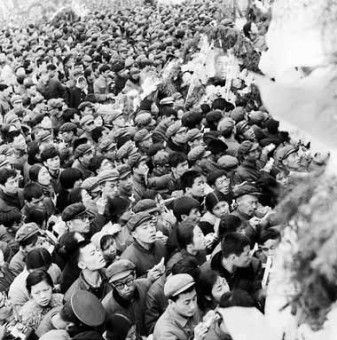 I still wonder if what we did was brave. I honestly can't say. Our people are combative, always jostling each other. We have fought amongst ourselves for thousands of years – no more so than during the last half century. During a ten-year period of the Cultural Revolution, hundreds and thousands of people were killed, sacrificing themselves for a common cause. In the April 5th Movement of 1976, it took all night to wash the blood stains from Tiananmen Square. When will these sacrifices serve as a memorial for the country's current tragedy?
"Gunfire, gunfire!"
The sound of gunfire woke me at 3:30 in the morning. It was directed towards Tiananmen Square. People were confused and asked why firecrackers were being set off so late at night. Someone ran over yelling "Gunfire, gunfire!" In fact, the army had been moving in from the west, shooting at protesters since midnight. The death toll kept rising as they marched along the streets. When they reached the intersection of Xidan Road, a man in his 30s pushed through the crowd, stood in the middle of the street and confronted the parade of military vehicles. "You'll have to roll over my body before you can harm the students in Tiananmen Square" he shouted. Quietly, a soldier raised his machine gun and drilled the young man's body with bullets. He fell.
I saw a 14-year-old girl running in the street. She was scared and frightened, and stopped to stand in a shadow in front of a store. She didn't even realize that the People's Liberation's Army – once so sacred in her eyes – had shot her. A bullet sliced her skull open. Her eyes stretched wide open and had never closed. On June 6, I returned to the spot where she'd died to find only a bloodstain remaining. Threads of black hair mingled with brain tissue in the shopfront glass shattered by stray bullets; the hair stirred in the smoky breeze. My companion picked up a small piece of skull bone. Less than two metres away, a man in his 40s had been shot to death. Bystanders told me that 200-300 people had been killed at this intersection alone.
At bloody dawn
Shortly after 5 in the morning, I turned to walk toward Tiananmen Square. I thought of all the students who would be sick, weak, hungry and exhausted as I approached there. I will never forget the walk.
I met a group of China Red Cross staff. Their white garments were stained with blood. They carried several unconscious bodies. Tears ran down their cheeks. One man held a square tile uprooted from Tiananmen Square. It was coated with blood. He stared into space blankly. I couldn't suppress my own tears. These white angels had never been to a battlefield; they had been attacked because of a peaceful petition. How could they have deserved this?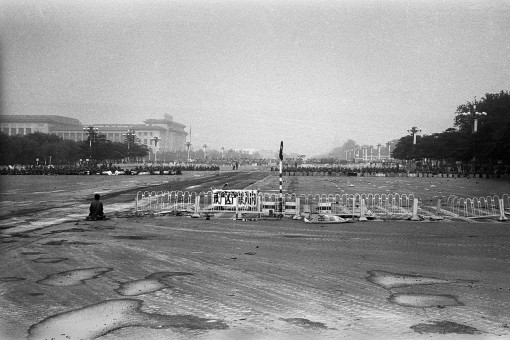 Tiananmen Square had turned into a battlefield. I stood among the wreckage where the war had ended minutes before. Tanks lined the streets, with barrels raised high, as the crowds watched. Soldiers pointed guns at pedestrians with their fingers around the triggers. For a moment, the volcano fell silent. Then tanks charged the crowd. Screaming, people fell over each other. The tanks closed in, then drove backward. Before they could steady themselves into a proper stance, soldiers fired upon the crowd. Two young people were shot in the leg and fell. I rushed to them and spotted fist-sized wounds in their legs. They were rushed to the hospital.
Later, a friend told me that, at almost the same time, a train of tanks at Liu Bu Kou had released a tear gas bomb and rolled over the bodies of 11 students. When my friend got there, she saw people picking up the broken bodies and piling them into carts.
My mind had been  stimulated to the point of numbness, I paused at the edge of this historic cliff, gazing at the bloodshed along the horizon. Alarms sounded in the heavens and on the ground. I had awoken this morning to a bloodsoaked world.
Translated by J. Fon in May 2014
Sheng Xue is a poet, journalist and editor. Born in Beijing, she left China in August 1989, shortly after the violent suppression of the Tiananmen Square protests. Her reporting on gangs that trafficked thousands of poor Chinese into Canada won the Canadian Association for Journalists award for investigative journalism and a National Magazine award. She has published three books in Hong Kong, all of which have been banned. Xue has been an active member of PEN Canada's Writer in Exile network – she was a co-author of the TAXI project and the City of Edmonton Writer in Exile in 2009.
Alan Chin was born and raised in New York City's Chinatown. Since 1996, he has worked in China, the former Yugoslavia, Afghanistan, Iraq, and Central Asia. Domestically, Alan followed the historic trail of the civil rights movement, documented the aftermath of Hurricane Katrina, and covered the 2008 presidential campaign. He is a contributing photographer to Newsweek and The New York Times, editor and photographer at BagNews, and his work is in the collection of the Museum Of Modern Art. Alan Chin is a member of the Facing Change Collective.
Featured photos from June 4, 1989 in Beijing, China  by Alan Chin
Photo from April 5, 1976 in Tiananmen Square by Wang Wenlan
Photo of Sheng Xue by Zhang Li/The Epoch Times