Finding the Words: Writers on Inspiration, Desire, War, Celebrity, Exile, and Breaking the Rules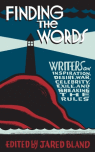 It's here! Thirty-one writers share deeply personal stories and discoveries in this exciting new anthology edited by Jared Bland and published by McClelland and Stewart. Contributors include: Joseph Boyden, Emma Donoghue, Denise Chong, Gord Downie, Rawi Hage, Steven Heighton, Lee Henderson, Martha Kuwee Kumsa, Pasha Malla, Lisa Moore, Alice Munro, Stephanie Nolen, Miguel Syjuco and Michael Winter.
The anthology also makes a great gift for those in your life who are passionate about writing!
Proceeds will be donated to PEN Canada.
To maximize the amount that PEN Canada receives, you may also purchase the anthology directly from the PEN Canada office for $24.99 plus $5 shipping and handling. Please contact Theresa Johnson at 416 703 8448 ext 2221 to provide your credit card and mailing information. If you would like to have the anthology mailed to someone as a gift, please let us know and we will include a notification card.