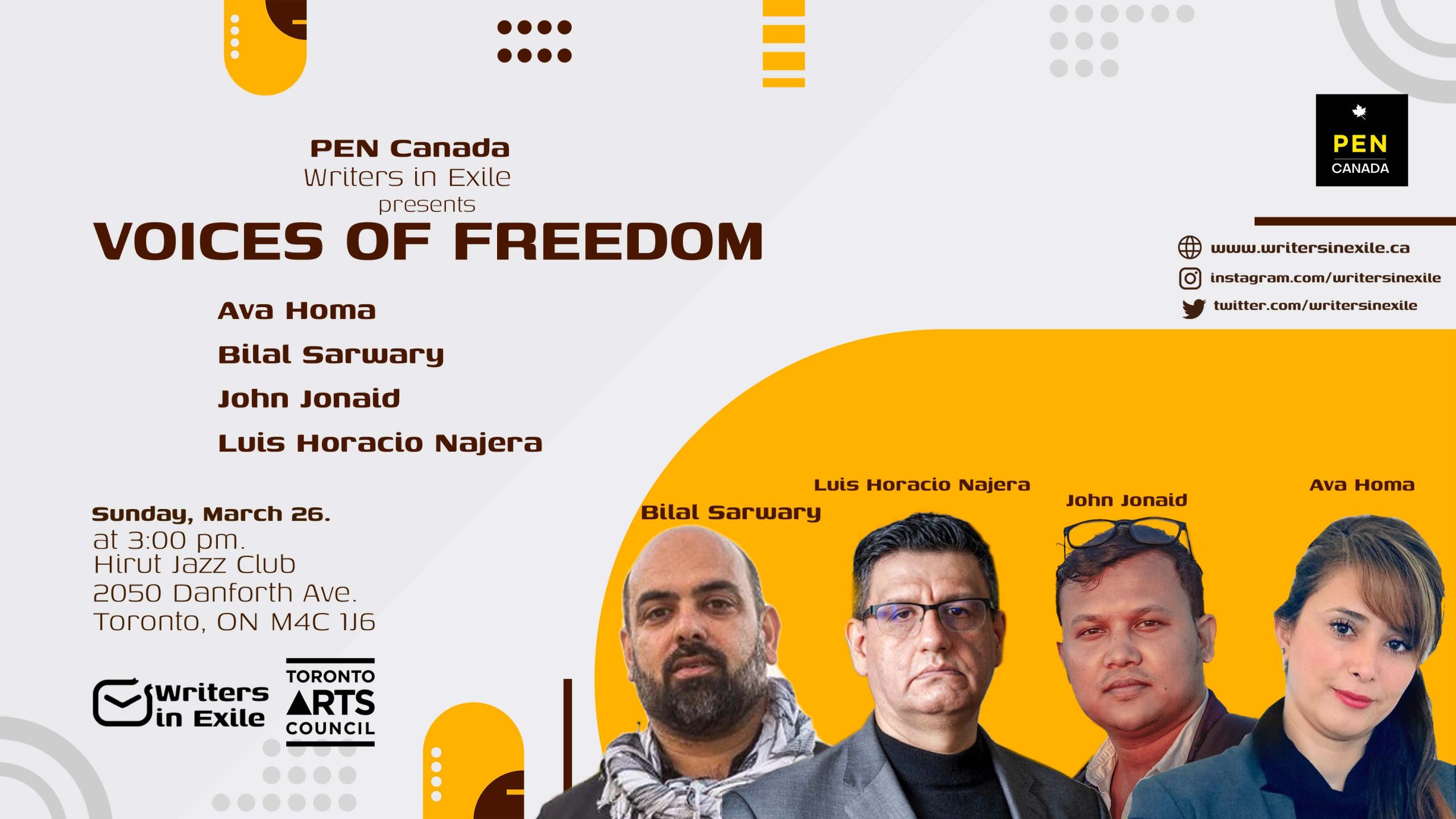 Join us on Sunday, March 26 at 3:00 pm at the Hirut Ethiopian Jazz Club, 2050 Danforth Avenue, Toronto to hear the work of four celebrated writers who have now made Canada their home.
Ava Homa (Iran), John Jonaid (Myanmar), Luis Horacio Nájera (Mexico), and Bilal Sarwary (Afghanistan) have been forced into exile for their defence of freedom of expression and human rights, but they have not been silenced.
Ava Homa is a journalist and award-winning author of "Daughters of Smoke and Fire". She holds an MA in English and Creative Writing from the University of Windsor, and an MA in English Language and Literature from Tehran, Iran. Ava has also addressed the UN and European forums on the struggle of Kurdish women and writing as resistance.
John Jonaid is a journalist, human rights activist, and survivor of the genocide against the Rohingya minority in Myanmar. He fled to Indonesia where he was interned in the notorious Makassar detention camp for asylum seekers. John is a member of Northern Lights Canada which advocates for refugees and displaced people. He is studying journalism at Mohawk College in Hamilton.
Luis Horacio Nájera is an acclaimed journalist, crime analyst, and former reporter for Mexico's Grupo Reforma. His life was repeatedly threatened for his reports on corruption and drug cartels. Luis won the 2010 CJFE International Press Freedom Award, is a former fellow at the Citizen Lab/Canada Centre for Global Security Studies, and the co-author of "Wolfpack".
When Bilal Sarwary was forced to leave Afghanistan after the Taliban stormed to power in 2021, he told CBC Radio it was like taking a knife in the heart.  As a journalist, he worked extensively with Western media for 20 years putting him on the Taliban's execution list. Bilal is a scholar majoring in the linkages between warfare, drugs, and terrorism. He is in Canada with his wife and daughter Sola, which means peace.
Come out and hear these extraordinary writers.  The afternoon is being hosted by novelist, scriptwriter, and director Keith Ross Leckie.  It is organized by PEN Canada's Writers in Exile collective.
For interviews please contact:Joan Leishman, jleishman58[at]gmail.com