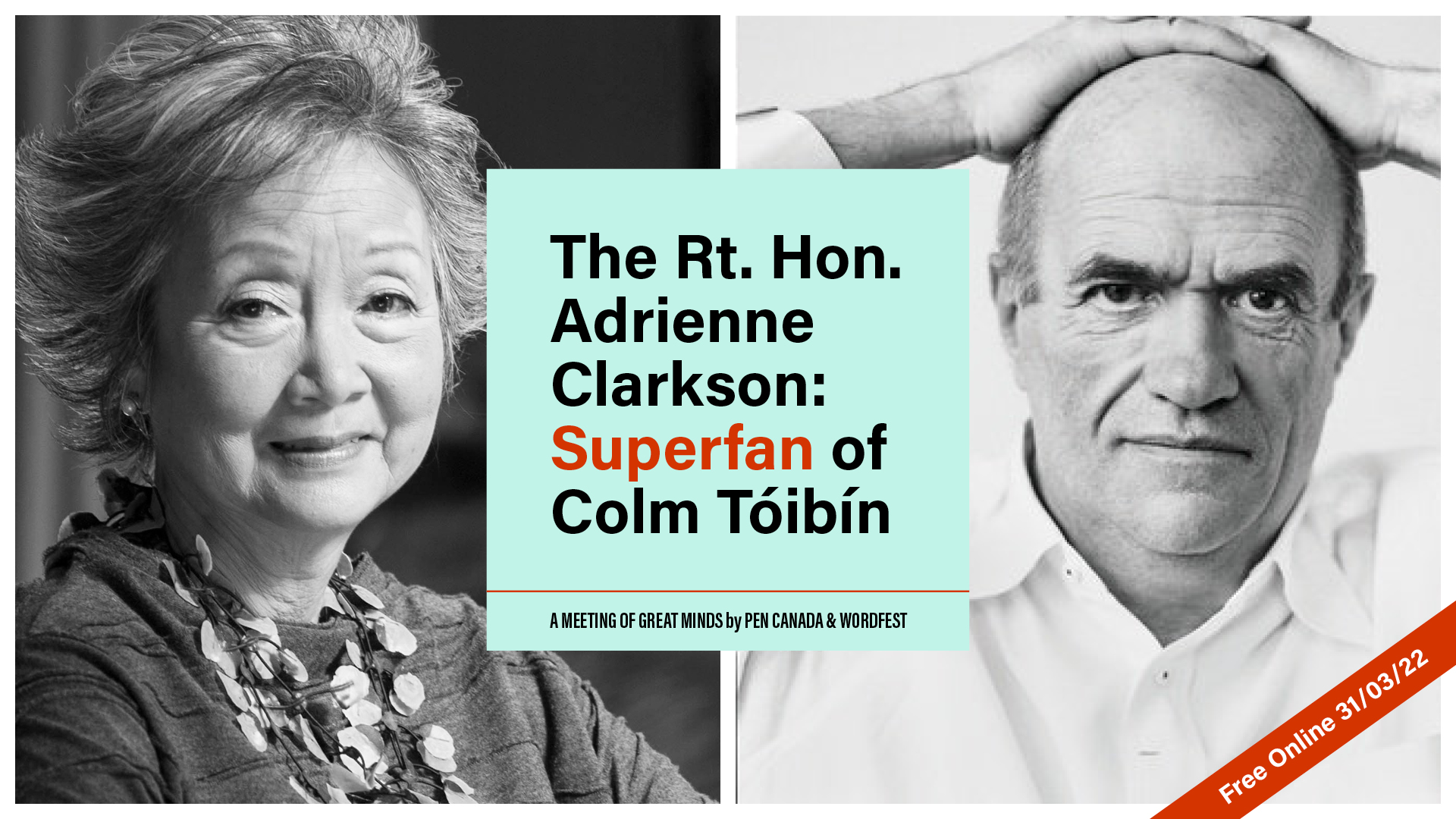 SUPERFAN SHOWCASE SERIES — A MEETING OF GREAT MINDS BY PEN CANADA & WORDFEST
Thursday, Mar 31 @ 9 PM – 10:10 PM EDT
FREE LIVESTREAM EVENT
We invite you to tune in at 9 pm EDT on Thursday, March 31, to eavesdrop on Colm Tóibín in conversation with the Rt. Honourable Adrienne Clarkson as these literary friends discuss the primal business of sound and the unease of dark, secret, shadowy places; recite Yeats; explore their shared love of an "out of fashion" modern master; and yes, celebrate Tóibín's glorious literary breadth in a penetrating, wide-ranging, soul-nourishing hour. It's the launch event of the Superfan Showcase, a new PEN Canada & Wordfest series highlighting the deep appreciation and affection we have for our favourite authors.
The live stream is free – and if you RSVP, Wordfest will send you a reminder on the morning of the show, as well as Wordfest's unique Digital Doggie Bag the next day with bonus extras sparked by the conversation and a link to watch (or rewatch) on demand until April 8, 2022.
When the Great War breaks out in 1914 Thomas Mann, like so many of his fellow countrymen, is fired up with patriotism. He imagines the Germany of great literature and music, that had drawn him away from the stifling, conservative town of his childhood, might be a source of pride once again. But his flawed vision will form the beginning of a dark and complex relationship with his homeland, and see the start of great conflict within his own brilliant and troubled family.
Colm Tóibín's epic novel is the story of a man of intense contradictions. Although Thomas Mann becomes famous and admired, his inner life is hesitant, fearful and secretive. His blindness to impending disaster in the Great War will force him to rethink his relationship to Germany as Hitler comes to power. He has six children with his clever and fascinating wife, Katia, while his own secret desires appear threaded through his writing. He and Katia deal with exile bravely, doing everything possible to keep the family safe, yet they also suffer the terrible ravages of suicide among Thomas's siblings and their own children.
In The Magician, Colm Tóibín captures the profound personal conflict of a very public life, and through this life creates an intimate portrait of the twentieth century.
The Rt. Hon. Adrienne Clarkson
The Right Honourable Adrienne Clarkson arrived in Canada from Hong Kong with her family in 1942 and made the astonishing journey from penniless child refugee to accomplished broadcaster, journalist, and distinguished public servant in a multi-faceted lifetime. Madame Clarkson was Canada's 26th Governor General from 1999-2005. When she left Rideau Hall, she co-founded the Institute for Canadian Citizenship which helps new citizens to feel involved and included in Canadian life. The ICC hosts annual 6 Degrees events – a global forum on citizenship, immigration, inclusion, and diversity in the 21st century – across many cities including Toronto, Mexico City, Berlin, Montreal and Calgary.
Madame Clarkson is the bestselling author of the 2014 CBC Massey Lectures Belonging: The Paradox of Citizenship; Room for All of Us: Surprising Stories of Loss and Transformation; Heart Matters: A Memoir; and Extraordinary Canadians: Norman Bethune a biography of Dr. Norman Bethune.
About
Belonging: The Paradox of Citizenship
Never has the world experienced greater movement of peoples from one country to another, from one continent to another. These seismic shifts in population have brought about huge challenges for all societies. In the 2014 Massey Lectures, Canada's twenty-sixth Governor General and bestselling author Adrienne Clarkson argues that a sense of belonging is a necessary mediation between an individual and a society. She masterfully chronicles the evolution of citizenship throughout the ages: from the genesis of the idea of the citizen in ancient Greece, to the medieval structures of guilds and class; from the revolutionary period which gave birth to the modern nation-state, to present-day citizenship based on shared values, consensus, and pluralism. Clarkson places particular emphasis on the Canadian model, which promotes immigration, parliamentary democracy, and the rule of law, and the First Nations circle, which embodies notions of expansion and equality. She concludes by looking forward, using the Bhutanese example of Gross National Happiness to determine how we measure up today and how far we have to go to bring into being the citizen, and the society, of tomorrow.
Meet the favourite thinkers of your favourite thinkers.