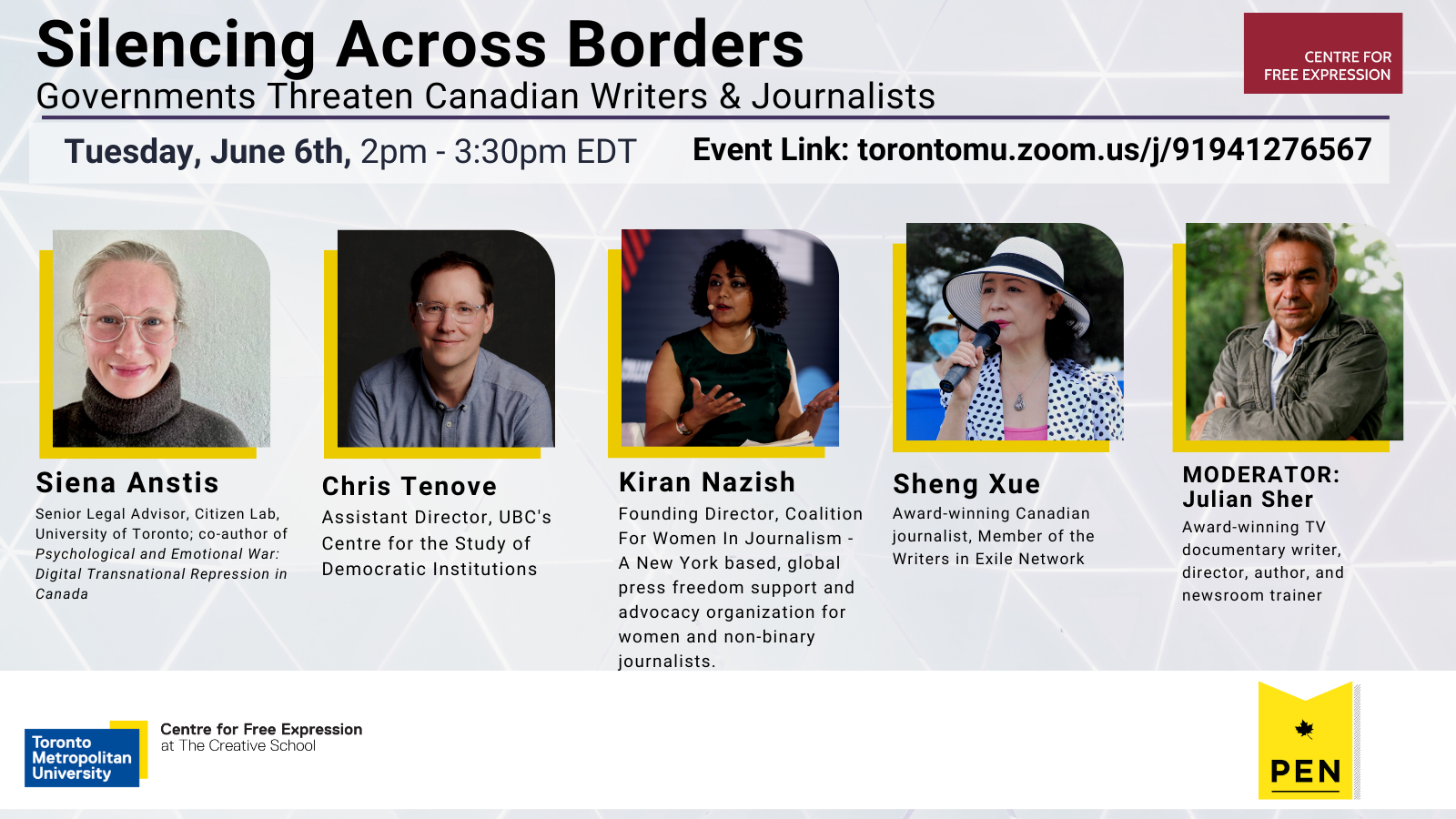 SILENCING ACROSS BORDERS
Join this free online event about Digital Transnational Repression on June 6th 2:00 – 3:30 pm.
Canadian-based writers and journalists face increasing threats from authoritarian governments trying to intimidate and silence them through the use of digital platforms. Weaponizing devices and networks that writers and journalists use to reach their audiences, nation states can surveil, harass, threaten, and attack critical voices, silencing people who live in otherwise democratic countries. Join a panel of experts discussing the consequences of Digital Transnational Repression and what Canada can do to fight it.
Co-sponsored by PEN Canada
Panelists
Siena Anstis,  senior legal advisor with the Citizen Lab at the University of Toronto's Munk School of Global Affairs & Public Policy and co-author of Psychological and Emotional War: Digital Transnational Repression in Canada.
Kiran Nazish, Founding Director, Coalition For Women In Journalism – A New York based, global press freedom support and advocacy organization for women and non-binary journalists.
Sheng Xue, Award-winning Canadian Journalist and Member of the Writers in Exile network who has been the target of government harassment over her criticism of Beijing.
Moderator
Julian Sher, award-winning Investigative Journalist and Author, former Senior Producer of CBC's the fifth estate
Zoom link to event torontomu.zoom.us/j/91941276567
This is a free event and no registration is required.
Please contact cfe@torontomu.ca if you require accommodation to ensure inclusion in this event.