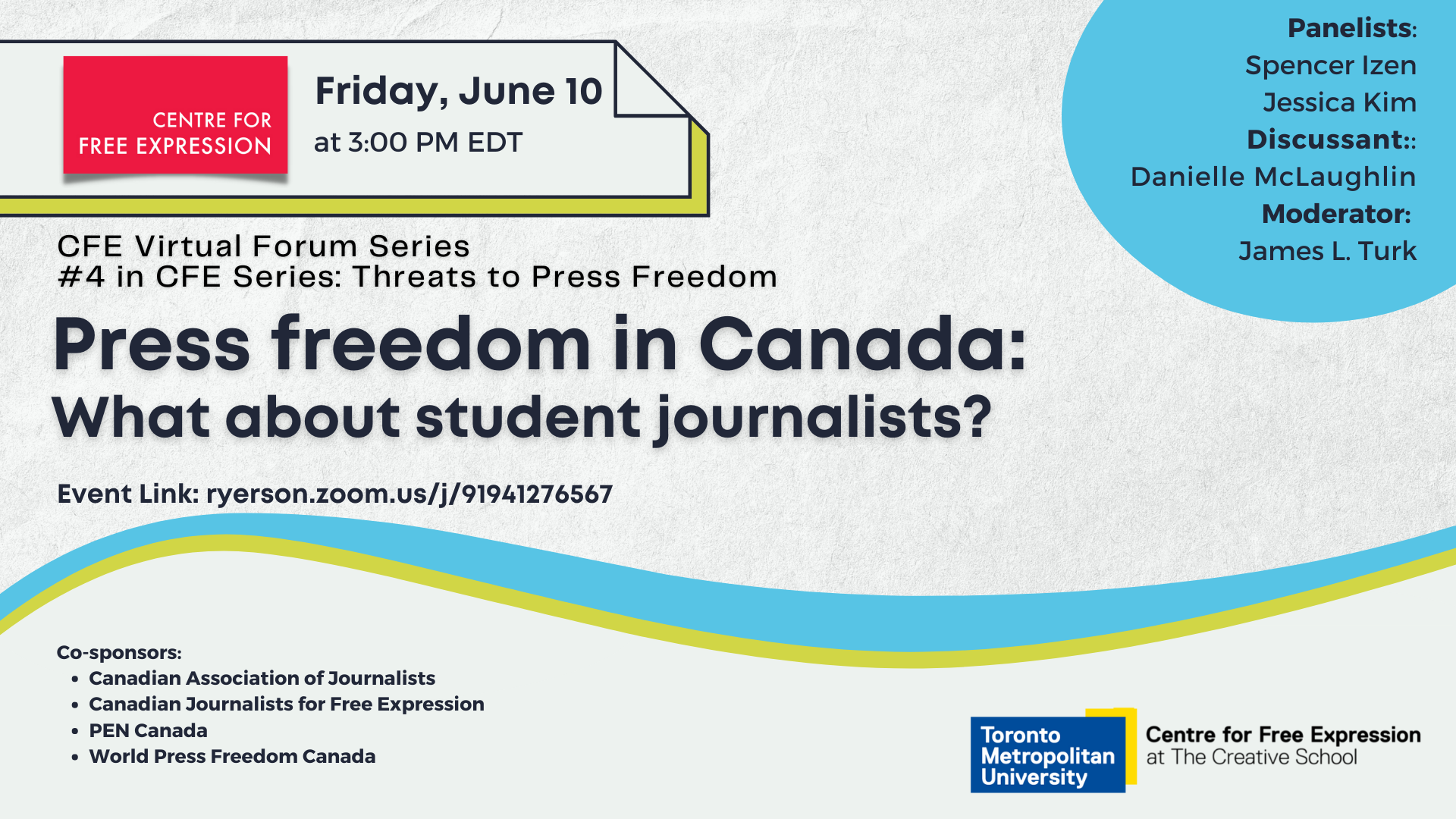 CFE Virtual Forum Series: #4 in CFE Series: Threats to Press Freedom — Friday June 10, 2022 3:00pm to 4:30pm
Canada's protection for press freedom does not seem to extend to student journalists — a worrisome omission to those who see schools as preparing students to be citizens in a democratic society. The Student Press Freedom Act, written and promoted by students in British Columbia, may change that. Join the authors of that Act in a lively discussion of why student journalists should have press freedom, the barriers they face, and the importance of overcoming them both for schools and society.
Co-sponsored by Canadian Association of Journalists, Canadian Journalists for Free Expression, PEN Canada, World Press Freedom Canada
Panelists
Spencer Izen, Editor-in-chief, The Griffins' Nest, Eric Hamber Secondary School, Vancouver; Co-Campaign Director, SPFA Campaign
Jessica Kim, Managing Editor, The Griffins' Nest, Eric Hamber Secondary School, Vancouver; Co- Campaign Director, SPFA Campaign
Discussant
Danielle McLaughlin, former Director of Education, Canadian Civil Liberties Association; Author of That's Not Fair! Getting to Know Your Rights and Freedoms
Moderator
James L. Turk, Director, Centre for Free Expression, Toronto Metropolitan University (formerly Ryerson University)
Zoom link to event ryerson.zoom.us/j/91941276567
This is a free event and no registration is required.
Please contact cfe@ryerson.ca if you require accommodation to ensure inclusion in this event.