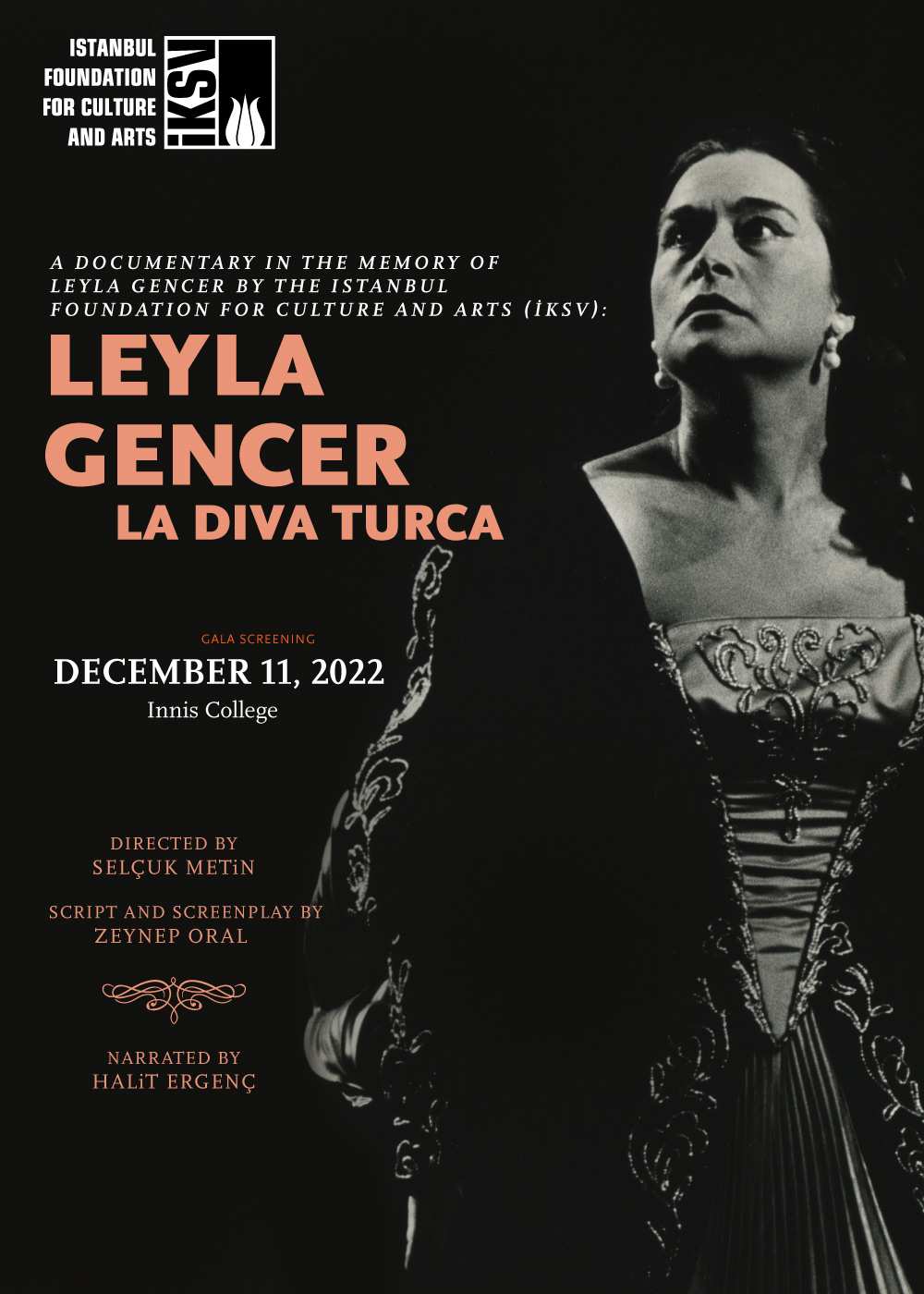 Sunday, December 11, 2022
12:30pm – 1:15pm Book signing event with Zeynep Oral
1:30pm – 4:00pm Documentary Viewing and introduction by Zeynep Oral and Selçuk Metin
Location: Innis Town Hall – Innis College, 2 Sussex Ave, Toronto, ON M5S 1J5, Canada
Tickets: $20
Leyla Gencer: La Diva Turca, documentary

Ankara Library of Toronto, a non-profit organization founded in 2000, is recognized as the only cultural hub in the Greater Toronto Area dedicated to establishing a cultural bond between Turkey and Canada. In addition to providing library services with more than 6,000 books in English, French and Turkish, Ankara Library is also committed to organizing cultural and educational events such as seminars, conferences, book club activities and short story competitions.
Ankara Library will hold its final event of the year 2022, with the screening of Leyla Gencer: La Diva Turca, a documentary produced by the Istanbul Foundation for Culture and Arts (IKSV) in memory of one of the most prominent opera singers of the 20th century.
The documentary Leyla Gencer: La Diva Turca provides an opportunity to get to know Leyla Gencer more closely through interviews held with artists who personally met and worked with her. The screenplay and narrative texts for the documentary were written by journalist and author, PEN Turkey President Ms. Zeynep Oral.
After premiering at the 38th Istanbul Film Festival in April 2018, the documentary Leyla Gencer: La Diva Turca continued to meet the audience at national and international film festivals. The documentary has been screened at the 30th Ankara International Film Festival, the 33rd International İzmir Festival, the 20th International Golden Saffron Documentary Film Festival and at the 2019 season opening of the Ankara State Opera and Ballet, as well as at the Arcola Theatre / GRIMEBORN 2019 in London in August 2019, earning great acclaim.
The screenwriter of the documentary Ms. Zeynep Oral and the director, Mr. Selçuk Metin will be attending on the screening event in Toronto.
Ms. Zeynep Oral will also sign her book "The Novel of Passion – Leyla Gencer" before the screening.
Zeynep Oral

Writer, theatre critic, cultural editor, columnist, Zeynep Oral has taken part in the cultural agenda of Turkey for many years with her books, articles and conferences in different corners of the country. She has built bridges between social consciousness and cultural affairs. She is the President of PEN Turkey and Honorary Vice President of AICT ( Association International des Critiques Théatrales) and writes for the daily Cumhuriyet .
She graduated from the American College in İzmir and from the Ecole Supérieure de Journalisme in Paris . She studied at L'Institut des Etudes Théâtrales at the Sorbonne University in Paris. 1968-2001 she worked for "Milliyet" newspaper as columnist , theatre critic and "grande reporteur", and founded the Milliyet Sanat Dergisi ( "Art and Cultural Review") which created the agenda of the intellectual life in Turkey. She was the editor in chief until 2001
Zeynep Oral is the author of 22 books, among which are short stories, collections of essays, biographies, travelogues, researches on human rights and cultural issues… Her book on "Leyla Gencer" has been published in English "Story of a Passion" , Italian "Il Canto e La Passione"(Editore Mursia) and in French "Leyla Gencer" (Bleu Nuit Editeur) Her play "Adsız Oyun" (A Play Without a Title) was produced by the Municipal Theatre of İstanbul. She collaborated in theatre works of James Baldwin and Robert Wilson.
Zeynep Oral is a feminist. Her book which she updates every year "Kadın Olmak" (Being a Woman) received many awards. It also empowered the fight for women's rights, inspired (the) younger generations, promoted women in every field and gave birth to lots of NGO's in the country .
"Uzak Doğu'm" (My Far East) received the "Best Travel Book Award " from the Tourism and Travel Writers Association in Turkey .
Zeynep Oral is a peace activist. She is the founder of both the Turkish-Greek Friendship Association and WİNPEACE (Women Initiative for Peace.)
Her work with different groups such as Turkish- Kurdish; Turkish- Armenian, Turkish- Greek has made her the 1st winner of the International Press Institute's "IPI Press Freedom Dialogue Award" (2011 Vienna) and "Mothers for Peace Award" from UNESCO ( 2000 -Athens)
Among her other important awards are : "Chevalier de l'Ordre des Arts et des Lettres" and "Officier des Palmes Académiques" both given by the French government (2004 and 1990) … "Communication Gurus in Art and Literature" Award by the Istanbul University (1994); "Language Award" by the Turkish Language Association (2012); "Theatre Criticism Gurus Award by Ankara University Communication Faculty.(2015) Recently she was awarded by Catalan PEN the "Free Voice Award" (2016 Menorca)
She is a guest lecturer on literature, theatre, arts and culture, women and human rights both in Turkey and abroad.
Zeynep Oral is married to architect Ahmet Oral and is the mother of two sons and grandmother to seven grandchildren.