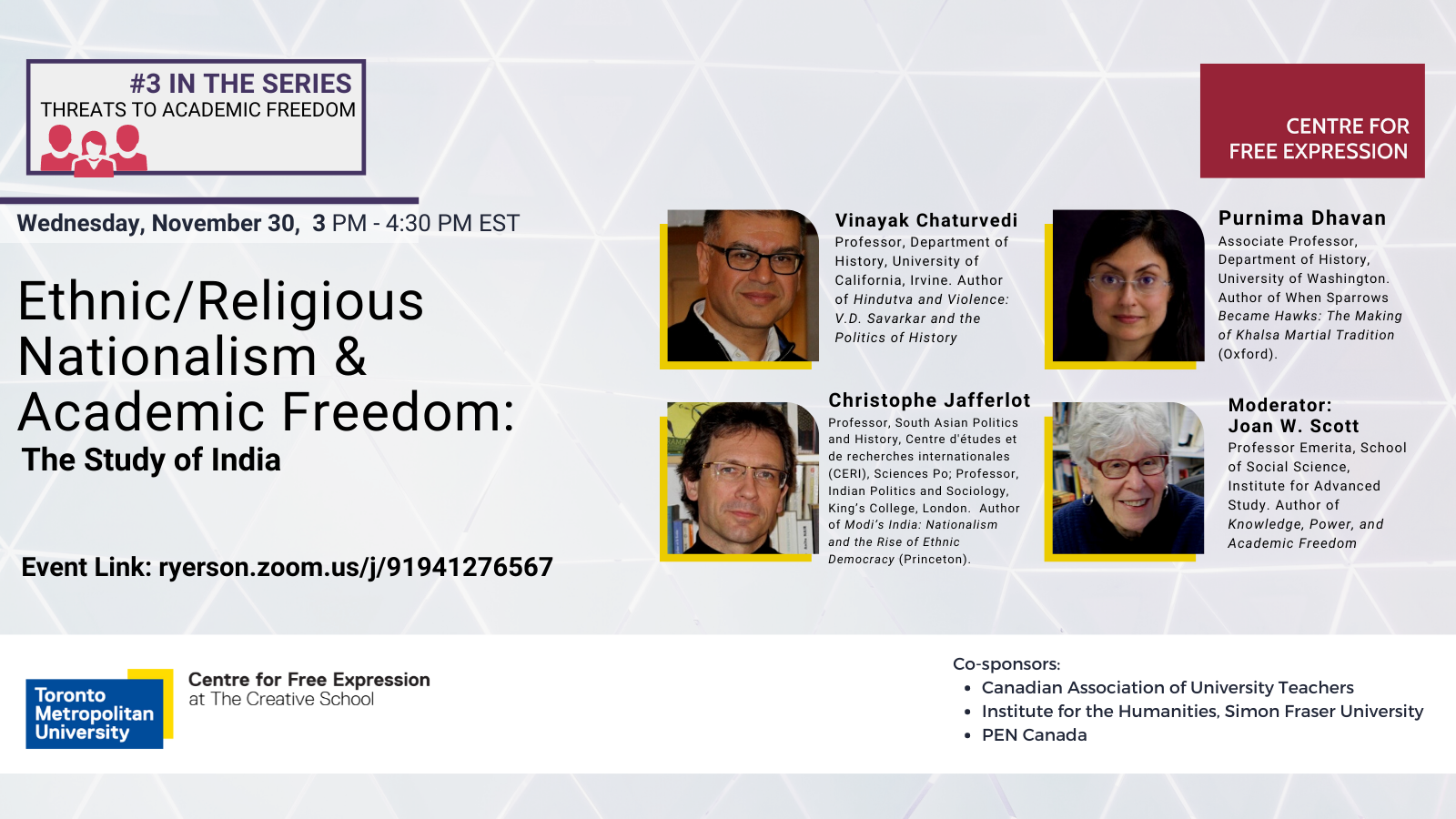 Wednesday, November 30
3:00 – 4:30 pm
Online Event
CFE Series: Threats to Academic Freedom
Increasingly, scholars of a nation's history, politics, and culture are challenged as anti-national or hostile to the dominant religion, ethnicity, and culture. This panel will look at the growing challenges faced by scholars of South Asia since the 2014 election of Indian Prime Minister Narendra Modi and the governing Bharatiya Janata Party (BJP). When does critical disagreement become an attack on academic freedom? What can universities do to protect the integrity of scholarly work in such a deeply fraught environment?
Co-sponsors: Canadian Association of University Teachers, Institute for the Humanities, Simon Fraser University, PEN Canada
Panelists:
Vinayak Chaturvedi, Associate Professor, Department of History, University of California, Irvine. Author of Hindutva and Violence: V.D. Savarkar and the Essentials of History (SUNY Press).
Purnima Dhavan, Associate Professor, Department of History, University of Washington. Author of When Sparrows Became Hawks: The Making of Khalsa Martial Tradition (Oxford).
Christophe Jafferlot, Professor, South Asian Politics and History, Centre d'études et de recherches internationales (CERI), Sciences Po; Professor, Indian Politics and Sociology, King's College, London.  Author of Modi's India: Nationalism and the Rise of Ethnic Democracy (Princeton).
Moderator:
Joan W. Scott, Professor Emerita, School of Social Science, Institute for Advanced Study.  Author of Knowledge, Power, and Academic Freedom
Zoom link to event ryerson.zoom.us/j/91941276567
This is a free event and no registration is required.
Please contact cfe@ryerson.ca if you require accommodation to ensure inclusion in this event.