Open House + "Make Space" Campaign Launch
On May 31, 2017, PEN Canada welcomed members and the public to our new office in Toronto to celebrate the launch of PEN International's "Make Space" campaign. Over snacks and refreshments, guests learned about PEN Canada's work, particularly creating opportunities for displaced writers to participate in their adopted communities as citizens and writers. Check out the campaign website here.
As one of the first international PEN Centres to form a Writers in Exile committee, PEN Canada has been a leader in "making space". Today, PEN Canada works with community partners, Romero House and George Brown College, to help displaced writers build the skills they need to adapt to their new professional environments. In the past year, PEN Canada has met with government officials to advocate for the speedy processing of refugee claims and family reunification applications from persecuted writers.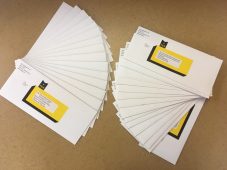 Guests signed letters to Minister of Immigration, Refugees and Citizenship, Ahmed Hussen, and Minister Foreign Affairs, Chrystia Freeland, thanking them for their support of persecuted writers and their families, and asking for their continued efforts for this group in the future. Exiled Sri Lankan journalist Ilamaran Nagarasa, who was reunited with his wife and daughter in August 2016 after seven years apart, spoke to the gathering about the importance of family reunification for displaced writers. As a special treat, Ilamaran's daughter, Dishaly, read a poem entitled "Stop the War."
Scroll down to read Ilamaran's address to the gathering, Dishaly's poem, and view pictures from the evening.
Thank you to all who helped to launch this important campaign!
Photos: Vera DeWaard
---
"Stop the War" by Dishaly Ilamaran
Do you want to kill people?
I don't think so
But some do kill people
Do you know why they kill people?
To own a place?
To own a country?
Or to destroy the language, culture,
Or to wipe out an ethnic group or race
Why don't you think about this?
Why do we have wars everywhere in the world?
Do you get happiness, or joy if you have war?
I think your answer is no!
Then try to stop the war or do something now to stop
If you don't know how to stop
Then help people who are trying
Open your eyes and look at the world
It is being destroyed and we are doing nothing about this
What will happen once the war starts?
Little kids covered in blood
Babies dead, or injured
If the war continues the world population will be zero
So, please try to do something now to stop the war.
Ilamaran Nagarasa's Address
My name is Ilamaran Nagarasa, also known as Maran. I am a journalist from Sri Lanka. I came to Canada on a boat in 2009. It was called Ocean Lady. After the 45 day journey across the ocean, when I reached Canadian soil I was arrested. After about 4 months in prison, I was released under strict conditions amounting to house arrest.
Thanks to the help of so many, after four years I was accepted as a Convention Refugee in Canada. Last October I finally became a permanent resident. It took seven years – seven years of fear and anguish.
I was separated from my wife and daughter for 7 years. To save their own lives, they were constantly on the run and in hiding for the first three years. Then they spent 4 years as refugees in a third world country.
There are no words to explain how I felt for those seven years. My daughter was constantly asking me, 'Dad! When you're going to take me to Canada! I want to sleep in your lap, I want to give you a big hug." Sometimes she gave me big hug and kiss on Skype. Every time, I was speechless with tearful eyes.
A daughter may have outgrown her father's lap but she'll never outgrow her dad's heart. On August 2nd of 2016– an unforgettable day in my life. And my miracle. My wife and daughter arrived in Canada. They were granted a temporary visa to come to Canada. It did not happen easily. Pen Canada and the members worked hard to help me. It is only due to their dedication and tireless efforts that we are now together. 
I am grateful from the bottom of my heart to all the people who helped to bring my family to Canada – especially Mary Jo Leddy of Romero House and my lawyer, Andrew Brouwer, who supported me from the very beginning.
My fight for justice and peace does not stop here! Now that I have my family by my side, I have strength and energy to continue this journey no matter what obstacles may come my way.
---
…