CONCERNED ABOUT FREE EXPRESSION?
You can support PEN by becoming a member; or by simply giving us a donation. Contributions to PEN Canada are tax-deductible. You will receive a tax receipt for all dues and donations. You can donate here by clicking through to the donation payment form, or by contacting the PEN office directly, by phone with your credit card information or through the post, making the cheque payable to PEN Canada.
PEN Canada also accepts donations through Canada Helps.
TEN for PEN 
PEN Canada now has a monthly giving program. TEN for PEN is a simpler, more convenient, more effective way to donate. By giving only $10 a month through this method of sustained support, you will not only avoid receiving annual donation reminders, you will help reduce PEN's administrative costs. Moreover, you will help advance PEN's vital work on behalf of persecuted writers and in defence of freedom of expression at home and abroad.
NOTE: When you click through to the payment window please enter the amount you wish to donate monthly. This amount will then be drawn from your credit card each month. All monthly payments are charged on the 15th (or as close to as possible) of every month. Your monthly donations will begin the month after your initial payment.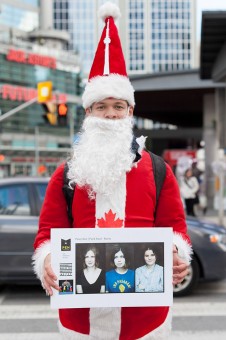 Photo credit: Chris Thomaidis