On Thursday September 5, 2013, at our annual general meeting, members elected Philip Slayton as the new president of PEN Canada.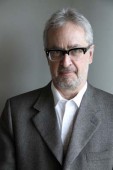 A few days after I became president of PEN Canada, I went with Tasleem Thawar, our executive director, to the 79th PEN International Congress held in Reykjavik, Iceland. The 79th Congress dramatically illustrated the international sweep of PEN. To our left sat representatives of Catalan PEN; to our right was the Cambodian delegate. The Congress welcomed a PEN centre in Myanmar, recognizing that country's progress towards freedom and democracy. Canada sponsored creation of a new centre in India, PEN Delhi. A number of important resolutions were passed at the Congress, including one highly critical of recent Russian legislation stifling free expression; a copy of this resolution was hand delivered to Russia's ambassador to Iceland after a dramatic walk by delegates to the embassy, through the streets of Reykjavik.
A few days later I was in Oxford, England, and one afternoon visited a graveyard in the nearby village of Sutton Courtenay. It is a modest and unprepossessing place, but contains two graves of particular interest. One is the grave of Herbert Asquith, prime minister of the United Kingdom from 1908 to 1916. In his day, at the height of the British Empire, Asquith was probably the most powerful politician in the world. Some thirty feet away is a simple gravestone, standing askew, with two unpruned rose bushes next to it. It marks the burial place of Eric Arthur Blair, better known as George Orwell, who died in 1950. Today Asquith is largely forgotten, but Orwell, as a thinker and writer, is more influential than ever. In June 2013, his prescient novel 1984 was on Amazon's top 100 bestsellers list. Is there better proof that the pen is mightier than the sword?
Charlie Foran was my predecessor as president of PEN Canada. There could not have been a better president. He energetically promoted the traditional programmes of PEN. He breathed new life into the national affairs portfolio, recognizing that even in Canada, Big Brother is watching us. He tended meticulously to the unglamorous but essential nuts and bolts of presiding over an NGO. And he did it all with unfailing grace and good humour. He's a hard act to follow. Thank you Charlie!