In the name of freedom of speech, and for the love of literature, get ready to Bare It For Books!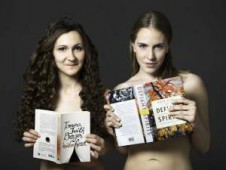 Greetings, friends! We're waving our hands at you on this lovely February day, ready to share some exciting news. Today marks the launch of the Bare It For Books campaign, a charity movement that's going to see a number of well-known Canadian authors posing in the nude for a 2014 calendar. That's right, you heard us–well known Canadian authors in the buff!
Bare It For Books, launching today, will work to raise awareness of both free speech and Canadian literature. For this year, we'll be producing a black-and-white 2014 calendar featuring twelve esteemed Canadian authors in the nearly-nude. The calendar will be filled with information about book launches, literary festivals, and other fun bookish happenings across the country to keep everyone up-to-date, involved, and excited about our country's literary goings-on.
When you buy a Bare It For Books calendar, you'll support the fight for free speech, and show solidarity with all writers, readers, and thinkers worldwide
All proceeds raised from the sale of the 2014 calendar will go to PEN Canada. It felt very fitting to us to have PEN as our inaugural charity of choice, because let's face it — the ability to produce and market a risque little calendar isn't something that's easy to do in other parts of the world. Sometimes it's easy to forget just how lucky we are, as Canadians, to be able to embark on public projects like this without fear of persecution. So when you buy a Bare It For Books calendar, you'll be supporting the fight for free speech, and in so doing making a gesture of solidarity to all writers, readers, and thinkers worldwide who work to ensure that everyone's voices are heard.
We'll be sharing author blog posts, hosting fun giveaways, and embarking on other fun escapades over the course of the year in the lead-up to the calendar launch. Have a peek over at www.bareitforbooks.ca –where you can read a little more about us and catch up on the latest BIFB news. We'll be announcing our star-studded literary list on February 19th. Until then, let us ask you this: who would YOU like to see bare it for books? Who is your Mr. November? Your Ms. April? Follow us on Twitter @bareitforbooks and tweet us your author with a chance to win a selection of some of our favourite Canadian books and a selection of carefully chosen David's Tea to pair with your book for the perfect rainy afternoon in. Bare it For Books, Canada! Because reading has always been sexy.
– Amanda and Allegra
Photo credit: National Post