A Review of PEN Canada's Annual Benefit
PEN Canada hosted its annual benefit on the opening of the International Festival of Authors at the Harbourfront Centre on Oct. 24, 2013.  The sold-out event featured Stephen King, Owen King, and Andrew Pyper.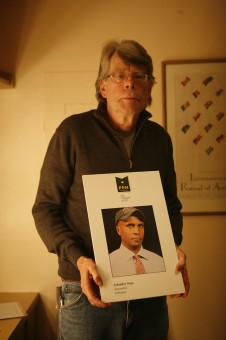 The empty chair for the evening was occupied by journalist Eskinder Nega who is facing an 18-year prison sentence for writing about the implications of the Arab Spring for Ethiopia. Read more about his case here.
"We do this to remind our audiences, and ourselves, of the responsibilities that come with the freedoms we enjoy, and to show our support for the hundreds of writers around the world who persist, often in the face of terrible odds, telling the truth as they see it," ex-officio PEN Canada president Charlie Foran said.
He introduced PEN Canada's One Humanity Award, which is presented to a writer whose work "transcends the boundaries of national divides and inspires connections across cultures."
The first recipient of the award, in 2006, was Jiang Weiping, a journalist who wrote about the Chinese communist party's corruption. The $5000 award has since recognized comedians, activists, critics, and last year, Nobel Peace prizewinner Liu Xiaobo.
This year, the award was presented to Vietnamese blogger Nguyễn Văn Hải, better known by his pen name Dieu Cay.
The people's physical being may be shackled in prison, but no prison cell can contain their dreams nor restrict their minds
"This award has been given to a series of unusually brave people," said Florence Minz whose donation made the award possible.
"Dieu Cay extends this tradition of unshakeable courage," she said as she presented the award to Christine Dang, who accepted on behalf of Dieu Cay. He is currently serving a 12-year prison sentence for "conducting propaganda against the state."
"The people's physical being may be shackled in prison," Dang said to the crowd. "But no prison cell can contain their dreams nor restrict their minds."
The evening continued with readings by Stephen King and his son, writer Owen King.
Stephen began with a sombre passage from his recently released sequel to The Shining, Doctor Sleep, and Owen shifted gears with a racy phone sex scene from his first novel, Double Feature.
The two then sat down for a conversation about writing with award-winning suspense author Andrew Pyper.
Though Owen's novel examines a difficult relationship between a father and son, he was careful to point out that the novel was not about his father.
"I could write about coal miners in Northern Pennsylvania and people would ask if the mine was my dad" he joked.
Though it would have been easy to argue that Owen's humourous debut novel were nothing like his father's horror stories, Stephen insisted the two genres were more similar than different.
"The difference between humour and horror is it stops being funny when it starts being you."
The most memorable moment? When technical difficulties prompted Pyper to pass his own microphone to the elder King, Stephen burst into an impromptu rendition of "Danke Schoen" to the crowd's delight.
The evening was followed by a book signing by all three authors.
Did you miss this event? We'll be posting some clips of the event soon but in the meantime you can see all the photos on our Facebook page here.
All photos by Krist Papas