Rapid Action Network Appeal for Raif Badawi  | January 15, 2014
PEN Canada is deeply concerned at a judge's recommendation, made on 25 December 2013, to refer editor, Raif Badawi to the General Court on charges of "apostasy". If convicted, Badawi could face the death penalty. PEN reiterates its call for Badawi's immediate and unconditional release. In December 2013, the Saudi Court of Appeal undertook the decision to review Badawi's seven year and three months prison sentence following his conviction on 29 July 2013 under the information technology law of "founding a liberal website," "adopting liberal thought" and "insulting Islam."
PEN Canada nominated Badawi for the 2014 International Publishers' Association's Freedom to Publish Prize. His wife, Ensaf Heidar lives in Canada. You can read her interview with PEN International here.
TAKE ACTION: Share on Facebook, Twitter, and other social media
Please send appeals:
Protesting the judge's 25 December 2013 recommendation to remand editor Raif Badawi for trial to the General Court on charges of apostasy;
Reminding the Saudi Arabian authorities that freedom of belief, including the right to change religion or hold no religion is a right protected under international law;
Calling for the immediate and unconditional release of Raif Badawi as he is being held solely for peacefully expressing his opinions, in violation of Article 19 of the Universal Declaration of Human Rights and urging that on no account should he be sentenced to death.
Background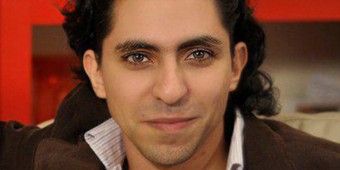 Raif Badawi was arrested on 17 June 2012 in Jeddah after organising a conference to mark a "day of liberalism". The conference, which was to have taken place in Jeddah on 7 May, was banned by the authorities. On 29 July 2013, a court in Jeddah sentenced Badawi to seven years and three months in prison and 600 lashes after he was convicted under the information technology law of "founding a liberal website," "adopting liberal thought" and for "insulting Islam". The online forum, Liberal Saudi Network – created to foster political and social debate in Saudi Arabia – was ordered closed by the judge.
According to reports, the appeal, submitted by Badawi's lawyer, Walid Abu al-Khair, cited procedural and evidential reasons why the conviction should be overturned and Badawi should be freed. In December 2013, it was reported that the Court of Appeal had reversed the ruling of the District Court in Jeddah, dropped a charge of apostasy, and ordered that Badawi's case be sent for review by another court. However, on 25 December 2013, the newly-appointed judge reportedly remanded Badawi to the General Court on charges of "apostasy", stating that the lower court was not qualified to deal with the case. According to PEN's information, the apostasy charge is only a recommendation from the judge and not a decision. If convicted of "apostasy", Badawi could face the death penalty.
Under Article 19 of the Universal Declaration of Human Rights, "everyone has the right to freedom of opinion and expression; this right includes freedom to hold opinions without interference and to seek, receive and impart information and ideas through any media and regardless of frontiers". Criminalisation of the peaceful criticism of public officials and institutions violates international human rights law. Article 19 of the UDHR also provides for freedom of belief. Corporal punishment such as flogging also violates the absolute prohibition under international law of all forms of torture or other cruel, inhuman or degrading treatment or punishment.
Appeals to be sent to:
His Majesty
King Abdullah Bin Abdul Aziz Al Saud
The Custodian of the two Holy Mosques
Office of His Majesty the King
Royal Court,
Riyadh
Kingdom of Saudi Arabia
Fax: (via Ministry of the Interior) +966 1 403 3125
Salutation: Your Majesty
Crown Prince and Minister of the Interior
His Royal Highness Prince Salman bin Abdulaziz Al Saud
Ministry of the Interior
P.O.Box 2933, Airport Road,
Riyadh 11134
Kingdom of Saudi Arabia
Fax: +966 1 403 3125
Salutation: Your Excellency
Minister of Justice
His Excellency Shaykh Dr Mohammed bin Abdulkareem Al-Issa
Ministry of Justice,
University Street
Riyadh 11137 Kingdom of Saudi Arabia
Fax: + 966 1 401 1741 + 966 11 402 0311
Salutation: Your Excellency
In Canada:
His Excellency Ambassador Naif Bin Bandir  Alsudairy
Embassy of Saudi Arabia in Ottawa
201 Sussex Drive K1 N1 K6
Ottawa, Ontario Canada
Salutation: Your Excellency
Telephone: 613-237-4100/01/02/03
Fax: 613-237-0567
Email: amboffice.ott@mofa.gov.sa
Please copy appeals to the diplomatic representative for Saudi Arabia in your country if possible.
Please send appeals immediately.