For the 34th Day of the Imprisoned Writer, PEN Canada members and friends were invited to write and share letters to jailed writers. Yann Martel, author of Life of Pi and and Beatrice and Virgil, wrote this note to Ethiopian journalist and editor, Eskinder Nega, who is currently serving an 18 year prison sentence in Kaliti Prison near Addis Ababa. Read more letters to imprisoned writers here.
Dear Eskinder,
When I read about the turn your life has taken these last few years, I feel I'm reading a Kafka story. You're a good man making a perfectly reasonable request, the you be allowed to live in a society where its members can be in peaceful and meaningful dialogue with the authorities. Freedom of expression does not put civil society in danger. On the contrary, it is the very foundation of a civil society.
So believe me when I say this: YOU ARE NOT ALONE IN YOUR JAIL CELL IN ADDIS ABABA. ALSO IMPRISONED WITH YOU IS THE ENTIRE HOPEFUL FUTURE OF ETHIOPIA.
It is my sincere wish to see you freed very soon. On that day your country will be a better society.
Yours in solidarity,
Yann Martel, A Canadian writer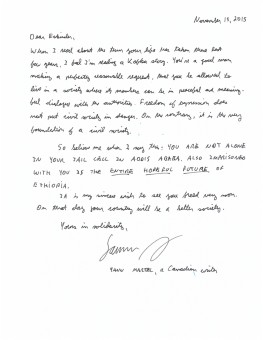 …
Editor and journalist Eskinder Nega was arrested on September 14, 2011 on terrorism-related charges. Nega was arrested for publishing a column disputing the government's claim that detained journalists were suspected terrorists, and for criticizing the arrest of well-known actor and government critic Debebe Eshetu. Nega was charged with having affiliations with Ginbot 7, a banned political party the government considers a terrorist group and receiving weapons and explosives from neighbouring Eritrea. Nega was convicted on June 27, 2012 and given an 18-year prison sentence.
Social Media: @EskingerNega #FreeEskinderNega
Address: Kaliti Prison, Addis Ababa Prison Administration, PO Box 2436, Addis Ababa, Ethiopia