As part of our ongoing advocacy focus on freedom of expression in Central America, PEN Canada organized a security workshop for indigenous women journalists in Guatemala City in December 2017. The three day security training was staged in partnership with PEN International, The Human Rights Defenders Project, and Unidad de Protección a Defensoras y Defensores de Derechos Humanos Guatemala. PEN Canada Programs Manager, Brendan de Caires, reports:
Stigma, Solidarity and Security
In November 2016, researchers from PEN Canada and the University of Toronto's International Human Rights Program visited Guatemala to assess the climate for freedom of expression. A five-person delegation interviewed more than 20 human rights defenders, journalists, lawyers and writers before concluding that the past four years had seen the "escalating use of violence against journalists and human rights defenders, targeting women and Indigenous persons in particular." PEN's submission to the 2017 UPR process also warned that these groups continued to work in a climate of "violence, fear and impunity" and often faced "stigmatization" and "criminalization."
A year later, in partnership with UDEFEGUA (La Unidad de Protección a Defensoras y Defensores de Derechos Humanos Guatemala) and The Human Rights Defenders Project, PEN International and PEN Canada staged a three-day security workshop for 16 indigenous women journalists in Guatemala City. In 12 intensive sessions from December 7-9, participants learned how to analyze and mitigate risks, draft security plans, and cope with the chronic stress of violent and unpredictable work environments.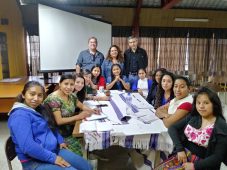 Frank Smyth, founder and executive director of Global Journalist Security, led the initiative. During the training, Smyth emphasized the importance of solidarity as a disincentive for would-be attackers: "Bullies prefer to work alone, in the darkness," he repeated. "They are frightened by the light." With his colleagues Marcela Turati and Javier Garza, Smyth showed that journalists who leverage their professional networks to publicize aggression against their colleagues can force their adversaries into a defensive posture. Publicity raises the cost of threats and discourages intimidation. In many ways, solidarity is security.
In a blog post for the Committee to Protect Journalists, where he acts as Senior Advisor for Journalist Security, Smyth expands on this idea: "Many people think journalist security involves the use of encrypted files and counter-surveillance techniques – and those practices do have their place. But security is really a way of thinking, a way of approaching your work. And fostering professional solidarity is crucial to that approach."
PEN's workshops addressed the usual security measures as well as de-escalation strategies, basic self-defence and first aid, and contingency planning for chaotic situations like abductions and assaults. But its primary focus was solidarity: the need for the indigenous community – often marginalized by Guatemala's corporate-owned media – to strengthen its networks with other journalists both nationally, regionally and internationally.
Smyth illustrated the power of these networks by displaying the CPJ's recent appeal for Jerson Antonio Xitumul Morales, a colleague to several workshop participants, through an overhead projector.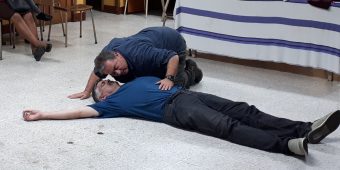 Thirty-six years of war have left deep scars on Guatemalan society. The conflict normalized violence and undermined public trust in law and order. During the early 1980s a brutal counterinsurgency led to the wholesale destruction of hundreds of Mayan villages and tens of thousands of deaths. In 1996, the UN report on these atrocities officially designated the army massacres as a genocide. Several of the journalists at PEN's workshops came from communities that experienced the brunt of this horrific violence. Tragically, even today, the terror associated with security forces and international investors – such as the sexual violence at Zepur Zarco and Lote Ocho ­– too often remains the rule rather than the exception.
In Clamor For Justice: Sexual Violence, Armed Conflict and Violent Land Dispossession (2015), Luz Méndez Gutiérrez and Amanda Carrera Guerra write that "The Peace Accords, signed between 1991 and 1996 by the Government of Guatemala and Unidad Revolucionaria Nacional Guatemalteca (URNG), contributed significantly to the empowerment of women and indigenous peoples as social actors." Even so: "Violence against women has increased in all its forms in recent years, and is the most frequently reported crime at the security and justice departments. Between 2001 and 2012 the violent deaths of women increased annually by 7%; extreme forms of violence against women also expanded. Along with the structural causes rooted in the patriarchal system, the current context of violence and insecurity maximizes gender-based violence."
In addition to facing threats from state and private actors, many women also face criticism within the political arena from conservative groups who consider journalism and human rights advocacy to be a male preserve. Marginalization affects official protection measures available to female human rights defenders and journalists. When female human rights defenders and journalists face threats, defamation, or physical and sexual violence, they often lack access to the social networks and protective mechanisms their male counterparts can rely on. Facing greater levels of risk, they are more likely to self-censor.
PEN's security workshops are a modest counter-pressure to these trends, but they are important nonetheless. Six years ago, a nine-country PEN delegation to Mexico City urged the Calderón administration to do more to protect its journalists. The delegation placed a short message of solidarity as a full-page ad in several prestigious newspapers. Endorsed by some of the world's most eminent literary figures, the PEN statement affirmed its commitment to freedom of expression and memorably asserted that it valued the life of a journalist in Ciudad Juarez no less than that of a Nobel laureate for literature.
Perhaps the most important outcome of the recent workshops in Guatemala is that this circle of solidarity now includes indigenous journalists in Guatemala. Courageous women who work for some of the country's most marginalized communities, in places like Solalá, Chiquimula, and Petén.