The Winter Olympic Games will take place in Sochi, Russia on 7th – 23rd February, 2014. PEN's Out In The Cold campaign will be protesting the draconian restrictions placed on free expression in Russia since President Vladimir Putin returned to office in May 2012. Later that year, Canadian writer and poet Karen Connelly wrote this poem as part of CATECHISM: POEMS FOR PUSSY RIOT, edited by Mark Burnhope, Sarah Crewe & Sophie Mayer.
'Here, my love, listen.'
1.
Here, my love, listen.
The sculpted dish of the human ear
still fills with cries
from a road where the blood
stayed for many days.
The people come slowly out
of their hiding places to collect
the scarves, the purses,
the hand-painted signs,so many voices broken away
from frozen-open mouths.
2.
Here where all the doors are closed
the woman turns herself
sideways to slide through the slit
of hope, the woman strips off
her shadow and stands perfectly
naked
before the crowd.
Then she begins to sing.
3.
Here where the spirit
becomes flesh and a million
dead sweat beside you,
the borders dissolve
with the bruised skin.
Here there is no separation.
Entering the new age
of murder,
you forsake
every weapon but the hand
thrashing a guitar.
And the voice, the unruly voice,
raising its riot
of song.
1.
Слушай, любовь моя, слушай.
Лепная ваза твоего уха
еще полнится криками
с улицы, где кровь
долго не выцветала.
Люди выползают из нор
И собирают осколки:
Шарфы, сумочки,
Самодельные плакаты,
Обломки звуков, сорванных
с губ, застывших в крике.
2.
Здесь, где все двери заперты,
женщина протискивается боком
в узкую щель надежды,
женщина сдирает с себя тень
и остается голой
перед толпой.
И начинает петь.
3.
Здесь, где дух
обретает плоть, и миллионы
трупов потеют рядом,
границы растворяются
в ее ссадинах и ранах.
Здесь нет разделенья.
На входе в новый век,
век убийств,
нет важней оружия, чем рука,
бьющая по струнам.
И голос, непокорный голос,
поднимающий восстание
песни.
Translated by I.M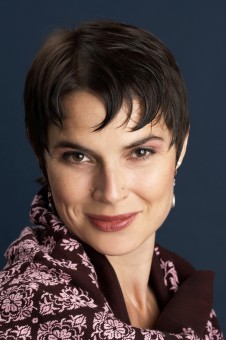 Karen Connelly is the author of nine books of best-selling nonfiction, fiction, and poetry, the most recent being Burmese Lessons, a love story, a memoir about her experiences in Burma and on the Thai-Burma border. She has won the Pat Lowther Award for her poetry, the Governor General's Award for her non-fiction, and Britain's Orange Broadband Prize for New Fiction for her first novel The Lizard Cage. Published in 2005, The Lizard Cage was compared in the New York Times Book Review to the works of Orwell, Solzhenitsyn, and Mandela, and hailed in the Globe and Mail as "one of the best modern Canadian novels." Her latest book, Burmese Lessons, was nominated for a Governor General's Award and British Columbia National Award for Canadian Nonfiction in 2009.
Her other books include Grace and Poison, One Room in a Castle, This Brighter Prison, The Disorder of Love, and The Small Words in My Body. Married with a young child, she divides her time between a home in rural Greece and a home in Toronto.
Photo credit: all photos courtesy of Karen Connelly.