Why do we defend free expression? PEN Canada's latest annual report asks a simple question that lies at the heart of our work. In this excerpt, Haroon Siddiqui looks at the political contradictions of contemporary India, and some of the ways in which free expression in the world's largest democracy "has never been so imperilled".
Paradox in India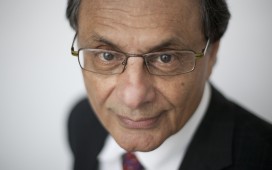 India is the world's largest and most rambunctious democracy. It has a free press and a thriving literary scene, in English as well as several regional languages. The Jaipur Literature Festival has become, within eight years, the biggest in the Asia-Pacific region. Print and electronic media are enjoying record circulation and ratings, thanks to rising incomes and literacy rates. Yet free speech has never been so imperilled. Authors, journalists, cartoonists, screenwriters and artists are under siege.
This paradox, one of India's million contradictions, is explained by a toxic mixture of British colonial-era laws still on the books, increasing religious fanaticism and corporate intolerance. Police and the lower courts are caving in to Muslim and, increasingly, Hindu fundamentalists, who demand bans on what they don't want to hear, see or read. Big business is slapping down expensive and seemingly endless lawsuits to avoid scrutiny, forcing not only individuals, but publishing houses and media to capitulate. Government is shutting down websites, blocking blogs and social media. India's constitution guarantees free speech but, as in Canada and many European nations, it also imposes "reasonable restrictions" to maintain public order. Authorities shut down anything that might flare communal riots, a real and ever-present danger, given the history of horrendous Hindu-Muslim killings. No government wants blood on its hands by upholding the right of a writer to offend.
India's constitution guarantees free speech but, as in Canada and many European nations, it also imposes "reasonable restrictions" to maintain public order.
Several laws restrict free speech. The Penal Code makes it an offence, punishable by up to three years in jail, to hurt anyone's religious sensibilities or promote enmity between different religious groups, etc. Worse, it allows anyone offended to demand that offensive material be removed; this has opened the door to political busybodies and religious bigots, who may storm police stations and courts, even turn up at a writer's door to intimidate.
The Anti-Sedition Act prohibits words and actions that may cause "hatred or contempt or disaffection" toward government. In 2012, as many as 6,000 farmers and fishermen were charged for opposing the start-up of a nuclear plant along the southeast coast. Media are restricted in reporting from the disputed territory of Kashmir and the insurgency-plagued northeast.
Libel and defamation laws criminalize speech and prescribe jail terms. India's eight intelligence agencies operate mostly beyond civilian control. New surveillance capabilities are being used to target critics, journalists and human rights activists. India was the first country to ban Salman Rushdie's Satanic Verses in 1988. That ban still draws sharp reactions, pro and con. In 2012, Rushdie had to stay away from the Jaipur festival amid threats to his life.
Hindu extremists are on the march. In February, Penguin India pulped American academic Wendy Doniger's The Hindus: an Alternative History under pressure from a right-wing group. Last year, leading intellectual Ashis Nandy was threatened with arrest for offending lower caste Hindus. In 2012, Mumbai police arrested a young woman who merely complained on Facebook about the shutdown of the city of 18 million upon the death of the leader of a chauvinist regional Hindu party. In 2011, the state of Gujarat stopped the sale of American journalist Joseph Lelyveld's biography of Mahatma Gandhi, which suggested that the great leader may have had a gay sexual relationship. In 2010, Rohinton Mistry's Such a Long Journey was removed from Mumbai University, his alma mater, on the objections of a Hindu student. The greatest victim of Hindu fanatics was M.F. Husain, the "Picasso of India, whose paintings of nude Hindu goddesses angered hardliners—they vandalized his works, launched hundreds of lawsuits against him and threatened him with death. In 2006 he went into exile in Qatar and London, where he died five years later, pining for his motherland.
Corporate India has imposed libel chill. To cut their losses, publishers have withdrawn books, or chapters within books, critical of Air India, the Sahara Group and the Reliance Industries conglomerate, among others. The picture is dismal. But India's strong civic society is fighting back. It is crucial that members of PEN everywhere stand with it.
Haroon Siddiqui is the Toronto Star's editorial page editor. He is a former president of PEN Canada and a member of the board of PEN International. Siddiqui was in India in January with John Ralston Saul, president of PEN International, for the opening of the PEN Delhi Centre and to help revitalize the All-India PEN Centre, based in Mumbai.
Photo credit: Featured image designed by Jim Ryce. Haroon Siddiqui's headshot courtesy of the Toronto Star.
*The original text of this article, published in PEN Canada's 2014 annual report, mistakenly cited A Fine Balance as the Mistry novel challenged at the University of Mumbai.