For the 34th Day of the Imprisoned Writer, PEN Canada members and friends were invited to write and share letters to jailed writers. Linwood Barclay, author of Broken Promise and No Safe House, wrote this note to Ethiopian journalist and editor, Eskinder Nega, who is currently serving an 18 year prison sentence in Kaliti Prison near Addis Ababa. Read more letters to imprisoned writers here.
Dear Eskinder,
It's hard to believe that anything I could say would provide much comfort as you sit in prison in Ethiopia, apparently indefinitely at the whim of the government, but I'll give it a try.
Throughout the world you have supporters, you have admirers, you have people in awe of your courage to speak the truth, even when it puts you in great peril.
During my career, I've mocked those in power, but never feared losing my freedom–or worse– doing so. If expressing those opinions could have landed me in prison, would I have expressed them? I don't know.
Several groups, including the UN Working Group on Arbitrary Detention, have found your continued detention to be a violation of your right to a fair trial. As you and so many other writers have demonstrated, it is the free expression of ideas that frightens so many governments more than anything else.
You, your wife, Serkalem Fasil, and all those close to you, are in our thoughts, and we will continue to highlight the injustice of your imprisonment until – and beyond – the day of your release.
Sincerely,
Linwood Barclay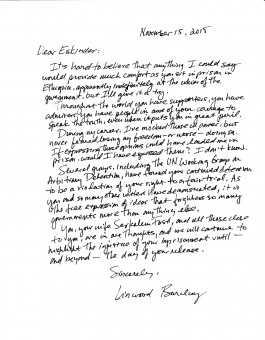 …
Editor and journalist Eskinder Nega was arrested on September 14, 2011 on terrorism-related charges. Nega was arrested for publishing a column disputing the government's claim that detained journalists were suspected terrorists, and for criticizing the arrest of well-known actor and government critic Debebe Eshetu. Nega was charged with having affiliations with Ginbot 7, a banned political party the government considers a terrorist group and receiving weapons and explosives from neighbouring Eritrea. Nega was convicted on June 27, 2012 and given an 18-year prison sentence.
Social Media: @EskingerNega #FreeEskinderNega
Address: Kaliti Prison, Addis Ababa Prison Administration, PO Box 2436, Addis Ababa, Ethiopia