For the 34th Day of the Imprisoned Writer, PEN Canada members and friends were invited to write and share letters to jailed writers. John Ralston Saul, author of Dark Diversions and The Comeback, wrote this note to Saudi Arabian blogger and author, Raif Badawi, who is serving a 10 year prison sentence and facing 1000 lashes. Read more letters to imprisoned writers here.
Dear Raif Badawi,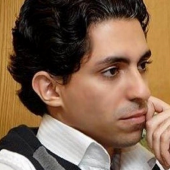 It was a great privilege to meet your wife Ensaf Haidar and your children, Najwa, Terad and Myriam a few weeks ago at the PEN Congress in Québec City. They spoke of you with the love of a family and with respect for your ethical rigour and your courage. Your wife spoke eloquently before the hundreds of writers, gathered from 75 countries, of your situation.
All of us in the writing community share a commitment: we will not be deterred from working for your release by a government that hides behind arguments which fail to meet any international standards of justice.
Governments cannot simply declare words or actions to be illegal, when in fact they are considered perfectly normal within every notion of fairness and justice; within every major religion, including all of the Abrahamic religions.
All of us who are descended from those faiths have experienced, at one time or another, governments which attempt to hide behind religions in order to justify their misuse of public power. The more they act in this way, the more they lose the respect of their people and of the world. And so, be assured that we will work everywhere for your release and for as long as it takes.
In Québec I read a beautiful poem written to you by your son Terad. The knowledge of that poem sustains of us who have read it to persist in your just cause.
With respect,
John Ralston Saul
…
Saudi Arabian editor and blogger Raif Badawi was sentenced to 10 years in prison, 1,000 lashes and a fine of 1 million Saudi riyals (over US$260,000) on charges of 'insulting Islam' and 'founding a liberal website.' He was also banned from travel and from participating in the media for 10 years after his release. On 9 January 2015, Badawi received the first 50 of the 1,000 lashes. Subsequent rounds of punishment have been postponed on medical grounds.
Social Media: @Raif_Badawi #FreeRaif
Address: c/o PEN Canada, 24 Ryerson Ave. Suite 301, Toronto, ON, M5T 2P3