If you had to stand behind one literary work and defend it for future generations, whose words would you choose and why? In celebration of Freedom to Read Week (February 24 – March 2), PEN Canada put this question to several Canadian writers, inviting them to consider in particular works that have been challenged, censored, or otherwise neglected by bookstores and school curricula. This is the first in a series of blogs that argue for the one novel, play, or poem that all Canadians should read.
Too Late for Me, But in Time for Someone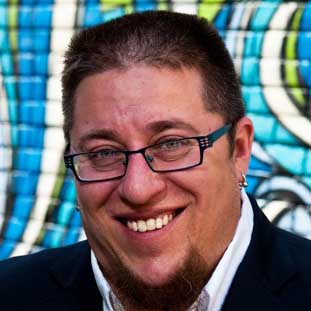 When I was five, I could read anything.
I know because my mother loves to tell the story, with an unmistakable ring of pride in her voice, of how she and my father were summoned to school in the autumn of my kindergarten year. There my parents were told in solemn tones (which my mother mimics flawlessly) that my teacher had a concern: I was "inattentive and unusually distractible" during the reading readiness activities. No one was saying "delayed" at this point, but…
There on the page in unmistakable black-and-white was Anna Madrigal, a transsexual woman; it was both quotidian and stunning, and more helpful than I could describe today without descending into the maudlin
My mother, by her own report, laughed in the principal's face. Then my father recommended that they summon me from my classroom. Upon my arrival, my father handed me that morning's New York Times and told me to go ahead and start reading it. I did, flawlessly except for stumbling on the word "nomenclature", while my parents smiled smugly at my chastened principal.
The realities of being an early reader, however thrilling to my parents at first, set in eventually. I could read things that I couldn't understand at all; there were a few troubling incidents where a new word sent me to the dictionary and then, when I couldn't parse its meaning from those words, to my parents for further clarification. A new category of books was established – Not For You. I pretended to respect this designation, but in fact read them on the sly whenever I had a chance. The melody unheard was sweeter far, though, just as Mr. Keats had suggested. I couldn't resist the forbidden literary fruits, but some of the stories were full of grownup-grade meannesses that troubled me late at night.
When I reached my teens, and my social world turned inward for a while (not an unheard of turn of events for gender-nonconforming know-it-all theatre nerds…), I started looking for friends, and eventually for myself, in the landscape of books. I was a little ahead of literature, regrettably. Today, young adult books feature queer kids, transsexual kids, fat kids, Jewish kids, and even unrepentant smartypants kids in a relatively positive way. Twenty-five years ago, there was almost nothing as far as I knew, and I wasn't yet quite ready to ask. It left me lonely, for sure, but more than that it left me futureless. No one I had ever met was like me, and no one I was able to read about in any book I knew how to find was much like me, either. Now I could, legitimately and without the concern of adults, read anything – but there wasn't anything for me to read. Or so I thought.
Later, I learned that there were at least a couple dozen books for young adults about being a gay teenager, about themes of being outcast, about suicide, about feeling insurmountably different. They were all kept "behind the counter" however. Not available to the general browser at the library, not stocked with the regular young adult books at the bookstore. At age sixteen, the first books I read that featured an actual transsexual were Armistead Maupin's Tales of the City series. There were … any number of things I didn't quite understand yet in those books, but there on the page in unmistakable black-and-white was Anna Madrigal, a transsexual woman who had reached an age so grown up it bordered on elderly. Mrs. Madrigal owned a house in which she rented out apartments; she gardened, she cooked, she had suitors and friends. It was both quotidian and stunning, and more helpful than I could describe today without descending into the terribly maudlin. I was in what can only be described as pretty bad shape back then.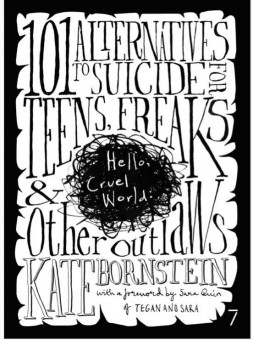 Hello Cruel World talks to people whose primary experience has been outside the margins of the culturally acceptable, and its primary mission is to help people live another day
The book I urgently needed was, unfortunately, not written until twenty-five years later.
Hello Cruel World: 101 Alternatives to Suicide for Teens, Freaks and Other Outlaws
by Kate Bornstein is the book I needed; it's the book teenagers love and prize and write in and pass around, even while Responsible Adults condemn it. Bornstein starts by situating herself as an outcast, giving the word such a loving gloss that slurs seem like trophies by the end of the introductory material; a reader could legitimately feel some sympathy, if not disdain, for the grade 10 student so resolutely average that she or he has never been maligned as a freak or queer.
Hello Cruel World talks to people whose primary experience has been outside the margins of the culturally acceptable. It's honest, even when honesty is difficult, and its primary mission is to help people who are feeling pulled to acts of suicide to live another day. Bornstein's position is clear: you can do anything you need to in order to stay alive another day, with one major and ironclad exception. You can't be mean.
Adults find Hello Cruel World upsetting, and now that I'm a parent I understand a little better why they might. If you've never had similar feelings yourself, or if plenty of time has passed since you did, it's hard to imagine a child (or any person) feeling so close to the end of their rope. Hello Cruel World has often been challenged, or put "behind the counter", for this very reason – because the very words that can be a balm if you feel invisible, futureless, or just plain lonely, seem extreme when you don't.
Having been asked to identify a book I think all Canadians should read, one that might in some circumstances or at some time have been banned, Hello Cruel World feels like the right choice. So many of us have either felt hopeless or known someone who has – someone who feels utterly abandoned by the forces of joy and optimism – that it's difficult to imagine one might not have a use for the book sooner or later.  It's full of good advice – ranging from "stop fucking around and get to work" to "plead insanity" and beyond – for changing things up enough to live a little longer, even when you feel like there's nothing to live towards. Perhaps more importantly, just having it on the shelves – proudly, spine out to face the world – would have told solitary young me something very important. I would have understood a lot sooner, and a lot better, that there was somewhere in the world that I could be seen, known, and welcomed. More than that, I would have understood that it was going to be worth having these stories – my queer, transsexual, fat, Jewish, smartypants stories – to tell when I got here.
S. Bear Bergman (sbearbergman.com) is a storyteller and educator, as well as the author or editor of three books of nonfiction for grownups and two trans-positive picture books for children. His sixth book, Blood, Marriage, Wine, & Glitter is forthcoming from Arsenal Pulp Press in September.
Photo credits:
Lolita by Barbara deWilde; Lady Chatterley's Lover: Cambridge Lawrence Edition (Penguin Classics);Philosophy in the Boudoir: Tomer Hanuka (Penguin Graphic Classics edition)