On March 16, 2006, PEN Canada urged the Toronto school board to reconsider its decision to restrict access to Three Wishes: Palestinian and Israeli Children Speak in reaction to protests from the Congress of Jewish Canadians which said the book dealt with issues that were too complex for younger readers. It appears that a conversation about these complex issues is needed more than ever and reconsidering the debate surrounding Three Wishes offers a starting point, writes its author Deborah Ellis.
Looking Back on Three Wishes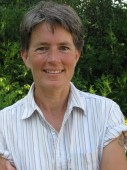 Once again, bombs are falling on Israel and Palestine. People are dying and getting hurt. Sleep is disrupted, there is running for cover, and families cling to each other, not knowing where Safety lives.
Looking back on what happened to Three Wishes, my book for young people on the Israel-Palestinian conflict, is beyond trivial in comparison, but there may be a kernel of importance in the exercise.
Late in 2002, during the second Intifada, I travelled to Israel and Palestine and interviewed many kids on both sides of that conflict. The resulting book – Three Wishes – was published by Groundwood Books. It was picked up by the Ontario Library Association for their Forest of Reading program. This is an annual event where students read books from a list provided, vote on their favourites and wrap it all up with a giant celebration of reading at Harbourfront. It's a fantastic program which happens across the country under different names.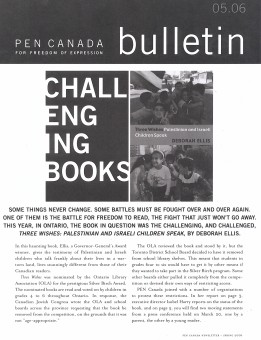 Three Wishes was listed in the Silver Birch category, for readers in grades 4, 5 and 6.
That's when the controversy started. Some folks and organizations were upset and believed that a book about this topic was too graphic and too complicated for young people to read. It caused quite a debate in newspapers and other media, and caused a couple of school boards to pull the book from their library shelves.
Many teachers in the affected boards were upset by this. They bought the book with their own money and spoke about it in their classrooms. Parents bought the book for their children, and I received many letters from families who read the book together and talked about it in the evenings.
The debate was raw and sometimes hurtful. I was accused of promoting terrorism since one of the interviews is with the young sister of a suicide bomber. I was accused of wanting to give children nightmares, and of presenting a complicated situation in a way too simplistic way.
I agree that the situation is complicated. I was back in Israel and Palestine a year ago, interviewing more kids on both sides for what I hoped would be an updated version of Three Wishes. I met with kids from the Golan to Gaza, from Sderot to Haifa, from Ramallah and Hebron to Jerusalem and the settlements – but I could not make the book come together as a cohesive whole. I think this was due to my pessimism. I felt at the time that all these good people were heading back into war, and no one knew how to stop it. And I can't write a pessimistic book for young people – I believe that would be morally wrong.
(I've been putting the interviews from that trip up on my blog.)
Over all, I have to say that I thought the debate over Three Wishes was a good one – it's good to discuss books, it's good to discuss war.
Which brings me to the kernel of importance in dredging up all this.
Over all, I have to say that I thought the debate over Three Wishes was a good one – it's good to discuss books, it's good to discuss war.
Where we run into trouble is when we forget that we are all the same species, when we forget that our neighbour's children are as valuable as our own children, and if we are doing things to children that we are too ashamed to tell our own children about, then we should not be doing them.
Deborah Ellis' newest books are Moon At Nine, published by Pajama Press, a young adult novel about growing up lesbian in Iran, based on a true story, and The Cat At The Wall, published by Groundwood Books, a novel for young people that takes place in Israel and Palestine.
Photo credit: Featured images from the cover of Three Wishes and Deborah Ellis' headshot are courtesy of DeborahEllis.com.