The following are extracts from PEN Canada's May 1993 newsletter. Six months earlier, at PEN Canada's annual benefit, Salman Rushdie's appearance onstage with then-Ontario premier Bob Rae marked the first occasion on which a head of government had greeted the author in a public forum anywhere in the world.
What was being said
"I inform the proud Muslim people of the world that the author of The Satanic Verses book which is against Islam, the Prophet and the Koran, and all involved in its publication who were aware of its content, are sentenced to death … [Anyone who dies in the cause of ridding the world of Rushdie] will be regarded as a martyr and go directly to heaven."
Ayatollah Khomeini, February 14, 1989
"So off we went, not to any deep secret safe house but to a hotel in the countryside. In the room next to mine was a reporter from The Daily Mirror who had checked in with a lady not his wife. I kept out of his way. " And that night, when every journalist in the country was trying to find out where I'd gone, this gentleman – how shall I put this? – missed his scoop."
Salman Rushdie, on surviving the first night of four years as a hunted man, Ottawa Citizen, February 14, 1993
"The issue isn't poor little me and whether I get bumped off. The issue is the centuries-old one of freedom of speech, of freedom of expression – and not just the freedom of writers to write but the freedom of readers, in Canada as everywhere else, to read what they choose to read. If the religious fundamentalist gets me, they will get others. And if the religious fanatics succeed, anyone can adopt the same technique. Either we act against this state terrorism or we allow it to succeed."
Salman Rushdie, The Star Phoenix, Saskatoon, February 11, 1993
"Foreign Secretary Douglas Hurd, an author himself, has warned that Iran cannot expect normal relations with Britain until the death threat is retracted. Germany has abrogated a cultural agreement and warned that it will hold Iran legally accountable should anything happen to Mr. Rushdie on German soil.
If Iran's Foreign Minister [Ali Akbar Velayati] thinks it over, he may find these plain-spoken warnings instructive. Britain and Germany are dedicated to commerce, but not just to commerce. Mr. Velayati seems truly to believe that the East is spiritual and the West materialistic. Thus he insists that the British do what his own people would indignantly reject – sacrifice honor and a living, breathing victim on the altar of expediency."
Editorial, The New York Times, February 16, 1993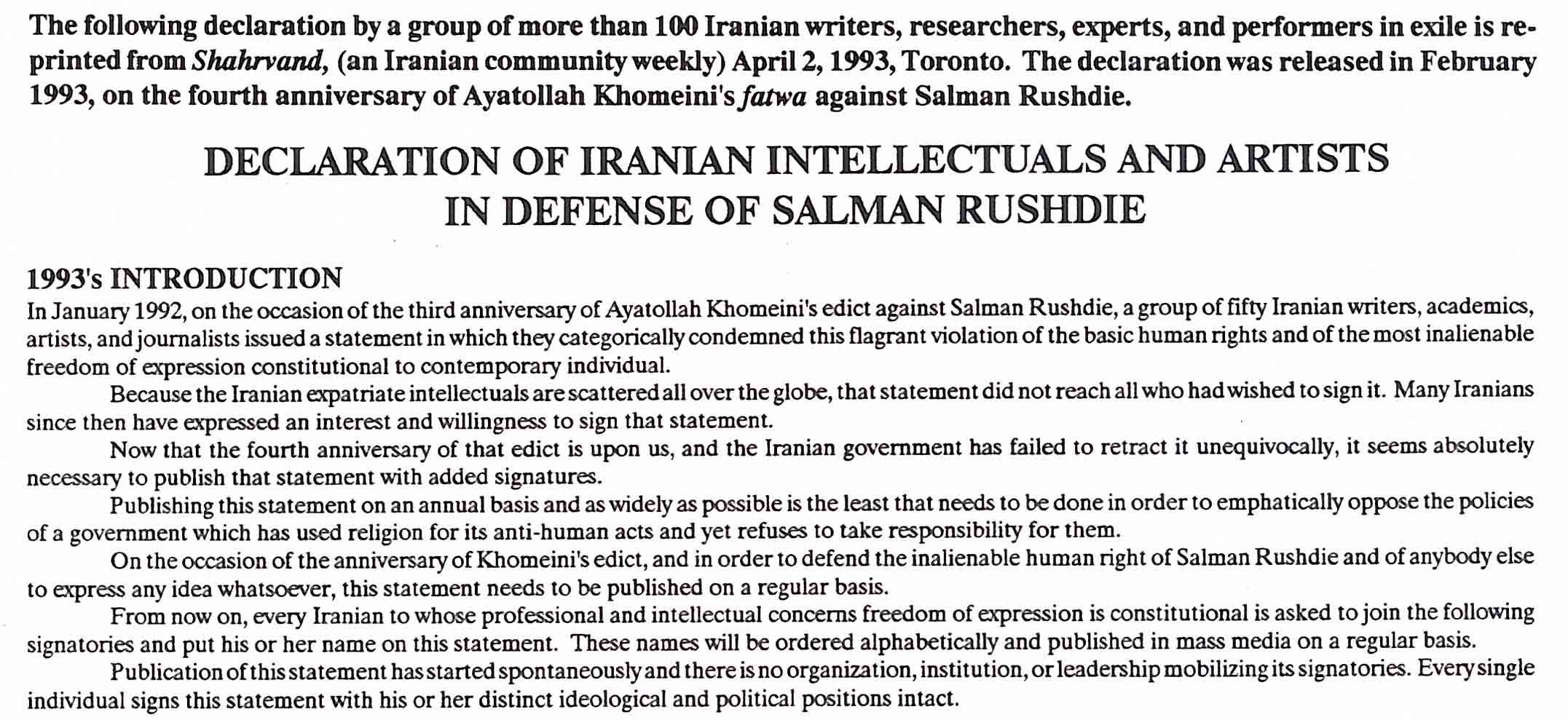 "The Iranian nation will no longer allow Britain, America or any other bully to intervene in Iran's internal affairs, aims, lofty aspirations and beliefs."
Ayatollah Khamenei, The New York Times, February 15, 1993

"Two weeks ago, President Rafsanjani said the fatwa could not be lifted because Khomeini, the person who issued it, was dead. This statement was interpreted as an attempt by the president to distance himself from the fatwa. Hopes of easing tension between Britain and Iran over the issue have, however, evaporated as a result of Khamenei's tone. What seems to have incensed him was Rushdie's self-confidence in appearing at semi-public gatherings."
Toronto Star, February 15, 1993
"lmam Khomeini has thrown an arrow at this impudent apostate. The arrow is moving towards its target and will sooner or later hit it."
Ayatollah Ali Khamenei quoted by Iranian news agency IRNA, Calgary Herald, February 15, 1993
"Here is a thing that needs saying. I suspect that because I have not been killed, many people think nobody is trying to kill me. Many people probably think it's all a bit theoretical. It isn't."
Salman Rushdie, in an essay in The Ottawa Citizen, February 14, 1993

Photo credits: Khomeini – Pixel Whippersnapper http://www.flickr.com/photos/neilhester/3676905318/
The Satanic Verses – Vintage