On October 20, 2006, PEN Canada dedicated its annual benefit to Anna Politkovskaya, a pioneering Russian journalist who had been murdered in her apartment two weeks earlier. While the Russian media avoided war-torn Chechnya next door, Politkovskaya travelled there on 50 separate occasions and brought the stories of the Chechen people to light. She exposed widespread corruption, including a scandal where Russian-appointed officials stole reconstruction funds by means of torture and kidnapping. She was due to file this story on the day she was killed. 
Nearly seven years later, Politkovskaya's killers have yet to be brought to justice. In 2008, a trial was held before a jury and all three suspects were acquitted, a decision Russia's Supreme Court later overturned. In a separate trial, Dmitry Pavliuchenkov, a former police officer, was found guilty of orchestrating Politkovskaya's murder and sentenced to 11 years in prison. In 2013, a new case was brought against five men suspected of being involved with Politkovskaya's murder – three of whom were previously acquitted in the 2008 trial. The trial has been adjourned numerous times; the most recent delay in the drawn-out court proceedings was the dismissal of five jury members. 
In this excerpt from the PEN Canada's Fall 2006 bulletin, former Writers in Prison Committee Chair Alan Cumyn reflects on Politkovskaya's role in Russia and her enduring voice in the world.
"Russia is a more silent place after her death."
So what is this crime that has earned me this label of not being "one of us"? I have merely reported what I have witnessed, no more than that. I have written and, less frequently, I have spoken. I am even reluctant to comment, because it reminds me too much of the imposed opinions of my Soviet childhood and youth. It seems to me that our readers are capable of interpreting what they read for themselves. I am not an investigating magistrate, but somebody who describes the life around us for those who cannot see it for themselves, because what is shown on television and written about in the overwhelming majority of newspapers is emasculated and doused with ideology.
So writes Anna Politkovskaya in an article to be included in English PEN's forthcoming anthology Another Sky. I use "writes", the familiar present tense accorded when writing about literary voices. Shakespeare "writes" in Hamlet, Orwell "writes" in Animal Farm, and Politkovskaya "writes" in Another Sky, even though she too is now dead, murdered in her apartment in Moscow on Oct. 7, 2006. An outspoken writer and journalist who often criticized the Russian government over the war in Chechnya and other issues, Politkovskaya was well-known within the worldwide PEN community, and her death is a real blow to those who knew and worked with her over the years. Eugene Schoulgin, an International PEN board member and former Chair of International PEN's Writers in Prison Committee, writes,"We who had the privilege to know her will never forget her passion, her courage all the greater because she managed to overcome her fear and her total compassion in all that she did. May the system that murdered her live in shame. Russia is a more silent place after her death." 
"We who had the privilege to know her will never forget her passion, her courage all the greater because she managed to overcome her fear and her total compassion in all that she did. May the system that murdered her live in shame. Russia is a more silent place after her death."
– Eugene Schlougin, PEN International board member
As I write now, I am uncertain about the fate of three of PEN Canada's Honorary Members imprisoned in Eritrea. Last month we received a shocking, unconfirmed report that Yusuf Mohamed Ali , Medhanie Haile and Said Abdelkader had died in prison. (Their deaths were later confirmed in our annual report.) They have been virtually unheard from since their arrest in the days after Sept. 23, 2001 following the closing of eight independent newspapers. International PEN is trying to gather more information on them and on six others arrested at the same time. Harold Pinter writes in his 2005 Nobel Laureate acceptance speech, "A writer's life is a highly vulnerable, almost naked activity. We don't have to weep about that. The writer makes his choice and is stuck with it. But it is true to say that you are open to all the winds, some of them icy indeed. You are out on your own, out on a limb. You find no shelter, no protection unless you lie, in which case of course you have constructed your own protection and, it could be argued, become a politician."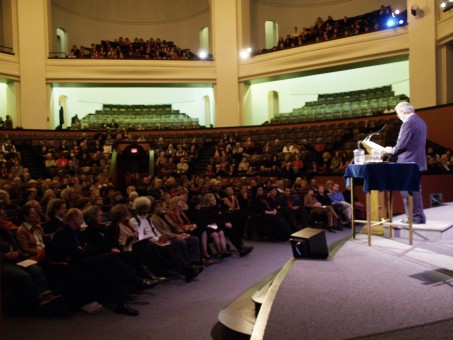 But sometimes writers who write brilliantly despite, or perhaps even because of, those icy winds, gather another kind of protection in the form of extraordinary rewards and accolades, as happened this past month with PEN Canada's Honorary Member Orhan Pamuk. Just a year ago Pamuk was facing charges that could have meant three years in prison for running afoul of Turkey's infamous "insult" laws in comments he made to a Swiss newspaper about Kurdish and Armenian deaths in the last century. Now, of course, Pamuk is the 2006 Nobel Laureate in Literature. The award announcement states that Pamuk "in the quest for the melancholic soul of his native city has discovered new symbols for the clash and interlacing of cultures."
PEN Canada has introduced a new prize of its own, the One Humanity Award, and in October 2006 named Chinese journalist Jiang Weiping its inaugural winner. The $5000 award honours a writer, journalist, academic or PEN Canada Honorary Member outside of Canada whose work has transcended the boundaries of national divides and inspired connections across cultures. The writings of the individual reflect a belief in the peaceful expression of ideas through any medium. Our hope is that Jiang, who spent nearly six years in prison and became an international cause célèbre after writing about government corruption in north-eastern China, will be allowed to travel to Canada to receive his award at a PEN Canada function in the coming months. (PEN Canada supported Jiang throughout his prison sentence and in 2009 helped reunite him with his family in Toronto.)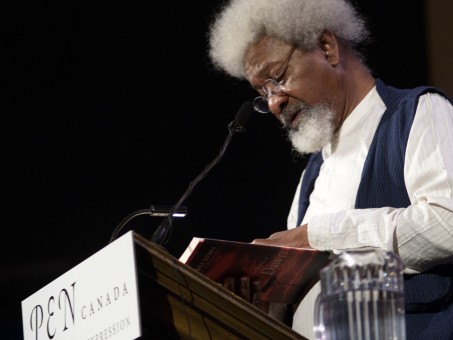 As it happens, recently I met another literary prizewinner, Nobel Laureate Wole Soyinka, at a round table event at Carleton University a few days before he spoke at PEN Canada's fall gala benefit "Uncensored." Soyinka was jailed in Nigeria from 1967 to 1969 for writing an article calling for a ceasefire in the civil war. In 1986 he won the world's most prestigious literary award, and at the round table I asked him to compare the two events – the imprisonment and winning the Nobel Prize – in how they had affected his writing and his life. He had already spoken a bit about his current life as a celebrity writer, how he spent a third of his time at home in Nigeria, a third in Europe or North America, and the last third "in the air" travelling between destinations. Now at my question he laughed good-naturedly. "I resented both prison and the Nobel," he said. Prison was a complete waste of his time, but the Nobel, he admitted, "had its compensations. The cheque was nice. But I wish there could have been a division of labour: I take the cheque, you take the responsibility!"
It was late in the afternoon on a gloomy, rain-soaked day, a day that Soyinka would later tell me felt unspeakably cold to his African soul. But he showed none of it at the time, and instead of simply ending on a joke, he continued thoughtfully. He explained that with his life the way it is, he often has to forgo a true literary moment, when a poem or other bit of writing is coming on, and instead concentrate on some screaming political need that must be addressed or he will feel badly that he didn't use his influence, his voice, at a moment when it might have been helpful. And the guilt of it would have ruined the purely literary moment anyway.
So he writes when he can, on the run, in airports, and hotel rooms, in his strong, clear, human voice. "Writes" present tense, because although some writers might be imprisoned or murdered, their voices are always with us.
Alan Cumyn's Writers in Prison Committee Report originally appeared in PEN Canada's Fall 2006 bulletin.
All photos by Martin Mordecai.