On Tuesday June 2, 2015, at our annual general meeting, members elected Randy Boyagoda as the president of PEN Canada. This is his message which appears in our newsletter. Sign up for it here.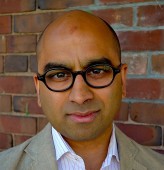 Dear friends,
As I write this note to you, the first in my capacity as the newly-elected president of PEN Canada, I am staring at the picture of a man staring right back at me. This is Eskinder Nega, an editor and journalist currently serving an 18-year prison term in Ethiopia on charges of writing material deemed critical of the Ethiopian government.
This stark picture of Mr. Nega, an honorary member of PEN Canada, occupies the upper half of a simple black bookmark distributed to PEN members and supporters at the 2015 Annual General Meeting and the spring Ideas in Dialogue event, both of which took place this past week in Toronto. Mr. Nega is a writer, he is a husband, he is a father. As writers, we make sense of the world with our creativity and our critical sensibilities together. With the best of mine, I still wonder how I could explain to Mr. Nega's little boy why he won't be reunited with his father for another fifteen years. But we can do more than merely wonder. We can press on, at PEN, advocating in all contexts for Mr. Nega and other imprisoned and imperilled writers around the world.
In addition to this important work, PEN continues to work towards the greater defence of free expression in Canada, and to offer educational and advocacy programs and dynamic events to help ensure this core democratic right and responsibility thrives in our society, that it may be an example to others. Looking ahead to the fall, you can expect to hear more from us about our plans to advance this mission in various dimensions.
As president, I look forward to working with an accomplished and committed board, a dedicated and ambitious staff, and with all of you. My own hope, as president, is to develop stronger opportunities for younger people to become involved with this work, by encouraging the creation of PEN clubs at university campuses across Canada.
I also hope we'll be able to stage conversations about the most complex and demanding matter before us today, the relationship between freedom of expression and freedom of religion. It is our right and responsibility, as writers, to tell stories that help us make sense of how these foundational freedoms of a just society relate to each other and inform our common life.
Best,
Randy Boyagoda
President, PEN Canada