« Back to Events
This event has passed.
Event:

Words and Music: An Evening with Rohinton Mistry

Start:

October 18, 2012 8:00 PM

End:

October 18, 2012 10:00 PM

Cost:

$50

Updated:

June 21, 2012
Venue:

Phone:

416-973-4760

Address:
Google Map

207 Queens Quay West

,

Toronto, ON

,

M5J 2G8

,

Canada
Tickets URL: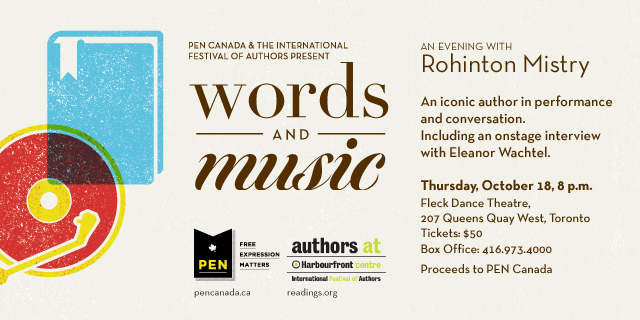 In a rare public appearance, the illustrious, Giller Prize-winning author of A Fine Balance and Family Matters discusses his life and work, his love of music, and his journey from east to west.
All proceeds go to PEN Canada.
Rohinton Mistry is the recipient of the 2012 Neustadt International Prize for Literature, marking him as one of the most important contemporary writers in the English language. He is the author of three novels: Such a Long Journey, A Fine Balance and Family Matters, all shortlisted for the Booker Prize, and a collection of short stories, Tales from Firozsha Baag. His fiction has won, among other awards, the Giller Prize, the Governor General's Literary Award, the Commonwealth Writers' Prize for Best Book and the Los Angeles Times Book Prize. His work has been published in more than 30 languages.
Eleanor Wachtel (interviewer) is the host of CBC Radio One's Writers & Company, which recently celebrated its 20th anniversary and won the New York Festival Award. She also hosts Wachtel on the Arts. Her latest book is Random Illuminations: Conversations With Carol Shields. Wachtel has received many honours for her contributions to Canadian cultural life, including eight honorary degrees and the Order of Canada.
Charlie Foran (host) is the current president of PEN Canada, a world-wide organization of writers and readers committed to defending and promoting freedom of expression. He is the author of 10 books, including the Charles Taylor Prize-winning book, Mordecai, a biography of Mordecai Richler, and the novels Carolan's Farewell and House on Fire.
iCal Import
+ Google Calendar